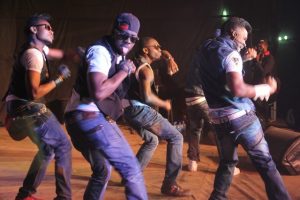 Renowned festival Breakin' Convention returns to take over Sadler's Wells and the Lilian Baylis Studio with its annual celebration of hip hop over the May Bank Holiday. A Sadler's Wells Project, the International Festival, now in its 16th year, takes place on Saturday 4 and Sunday 5 May, showcasing the finest and most exciting hip hop dance and theatre talent. Hosted and curated by Sadler's Wells Associate Artist Jonzi D, the Festival offers the chance to watch high-calibre breakin' crews, innovative popping, creative krump and soulful house dance.
This year the fresh and diverse line-up includes a number of Breakin' Convention debuts and pieces programmed as a result of Breakin' Convention's development initiatives. Olivier Award-winning Boy Blue Entertainment returns for the fifteenth time to storm the stage, as B-boy Junior, amongst YouTube's most watched b-boys of all time, teams up with Greek popper Kalliopi Tarasidou to bring kaleidoscopic moves to the festival. Leading the way is all-female poppers AIM Collective and 16 year old b-girl Logistx who is making waves in the dance community, whilst Joshua Nash and Jordan Douglas delve into the concept of toxic masculinity with their krump duet.
Attendees will experience hip hop culture in a unique way, with a variety of taster sessions, workshops and free activities throughout the entire Sadler's Wells building. Foyers will be transformed to allow audiences to enjoy dance workshops, live graffiti, award-winning hip hop DJs, MCs and impromptu dance circles all over the building. BSL interpreter Jacqui Beckford returns to co-host all Sadler's Wells stage performances.
WorX, a distinctive adult-only hip hop cabaret evening kicks off the festivities on Friday 3 May in the Lilian Baylis Studio. An exciting evening of live entertainment with an array of dance, circus and poetry. Acts are embedded with a hip hop flavour in this adult-only evening of works and new commissions in a burlesque setting. The ever-popular Park Jam closes the long weekend with a fantastic free outdoor event suitable for families on Monday 6 May in Spa Fields Park.