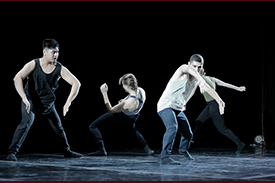 National Youth Dance Company returns for its seventh year with its new intake of 28 new young dancers, who join the 10 returners from the previous two cohorts. Different to previous years, the newly commissioned work, choreographed by Botis Seva, premieres at DanceEast in Ipswich on 20 April. MADHEAD then tours to Plymouth, Newcastle, Essex, Brighton, Birmingham and for the first time since its inception, closes at Sadler's Wells on 19 July.
MADHEAD draws on the robust, exuberant, impulsive energy of youth culture to embrace that as its identity. Botis Seva's unique movement language of physical theatre and hip hop, along with the youthful energy of the NYDC dancers, drawn from across the country, illustrates the influence and creativity that emerging dance artists can bring to a professional dance collaboration. Seva and his team work with the dancers over four residencies to create, develop and rehearse the piece. Throughout the dancers' time with NYDC they are given a unique insight into the dance profession such as here, gaining skills and techniques that will stay with them throughout their careers.
NYDC has established a reputation for producing high quality performances from a company of talented young dancers who are courageous, diverse and keen to make their mark on the dance world. The new line up of NYDC dancers are given the opportunity to engage with dance through working at the highest level, alongside an artistic team with exceptional standards and artistic integrity. NYDC has a track record of putting young people on paths to successful dance careers, with over 80% of all former NYDC dancers now either in further dance studies, in vocational training or working professionally.
NYDC also delivers Experience Workshops for young people aged 15-19, and up to the age of 24 for deaf or disabled dancers. The workshops are an opportunity to find out more about NYDC as the young dancers take part in a company class, learn repertoire from NYDC productions and take part in creative tasks. Participants can also meet current company members, ask questions and receive advice on dance training and careers. The Experience Workshops are also used as an opportunity to be considered for a place in the 2019-20 cohort.
NYDC is currently looking for 30 new dancers, with experience in any style.