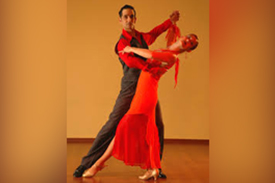 When it comes to Strictly Come Dancing and Dancing With The Stars, there are plenty of comparisons that can be made between the two shows. Both follow the same format, and both showcase a diverse group of contestants all vying to be crowned the winner. The two shows even share a judge – Bruno Tonioli. He is even more animated on Dancing With The Stars! Former head judge for Strictly Len Goodman has also judged Dancing With The Stars, sometimes booed by the Strictly crowd in pantomime fashion for being the nasty judge (but rarely knocking the crown from Craig Revel Horwood).
With one show from the UK and on from the US, naturally there is some friendly rivalry between them as they don their dance shoes. The professional dancers sometimes have their work cut out with their celebrity partners, but sometimes even more so with the links between the shows. Strictly's new head judge Shirley Ballas' son Mark dances on Dancing With The Stars, and siblings also dance across both. In terms of hosts, the US show sees Tom Bergeron and Brooke Burke, a former Dancing With The Stars champion. Despite this, Strictly's Tess Daly and Claudia Winkleman are a great comedic duo.
The main difference between the two shows – equally filled with glitz and glamour – is the scoring. On Dancing With The Stars audiences will see maximum scores being offered early, even by the third or fourth week of the series. Some may argue the panel of three judges for Dancing With The Stars tend to over mark, yet on Strictly, the maximum score of 40 (from four judges) is rarely seen prior to the semi-finals, regardless of how talented a celebrity might seem. Strictly seems to offer more constructive criticism which focuses more on the dancing, with corrections to footwork and top line quite common. Dancing With The Stars relishes in the glamour!