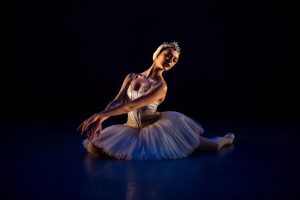 Elmhurst Ballet School's first-ever company for its Graduate Year launches this month with Origins, an evening of dance at Elmhurst Ballet School, Birmingham, and Lilian Baylis Studio, Sadler's Wells, London, on 8 and 9 February, and 15 February respectively. It is the school in association with Birmingham Royal Ballet.
It's inaugural programme will include a range of excerpts from works by leading classical and contemporary dance makers, including excerpts from David Bintley's The Shakespeare Suite, Kenneth MacMillan's Elite Syncopations and Wayne McGregor's Entity, with a wraparound outreach programme to complement Elmhurst Ballet Company activity.
The launch of Elmhurst Ballet Company is an exciting development in the school's history, especially as it works towards marking its 100th anniversary in 2023. Students will gain a greater sense of working and touring in a professional company whilst learning and performing a diverse range of choreography. It is hoped the company will help the graduate students make a smoother transition to their professional dancer lives. It will also allow the dancers to hone and perform challenging and well known choreography, and will take them off site to experience new venues and a touring regime. Subsequent years will see Elmhurst Ballet Company continue to deliver performances in its home city of Birmingham, return to London and develop a touring strategy that enables the Company to perform in towns and cities associated with the graduate students.
Elmhurst Ballet Company will help to deliver the school's future outreach, learning and participatory activities, starting with performances and workshops in selected state schools relating to the 2019 launch programme. Wayne McGregor's Entity (excerpt), will be performed by Elmhurst Ballet Company with thanks to the concept, direction and choreography of Wayne McGregor. Original music is by Jon Hopkins; costume design taken from the original by Patrick Burnier; lighting design taken from the original by Lucy Carter; and staged on Elmhurst Ballet Company by Studio Wayne McGregor Artist, Catarina Carvalho.
Photo credit: Elmhurst Ballet Company – Ellie Hennequin and Nicholas Vavrecka in Swan Lake – photography Andy Ross