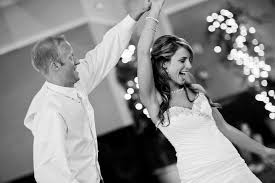 For some, the first dance of their marriage may be one of the most important and significant dances of their life. There are many variations of what this might look like, as well as the music the couple may dance too. There is a plethora of tracks out there that are hugely popular – from the ballads to the rock hits to the string quartet versions of songs. Every couple is different and have their own idea of what their first dance should or shouldn't look like – and whether they have one at all.
As first dances go, there seems to be a decreasing amount of shuffles around the dance floor in proper dance shoes, with the couple not completely comfortable with every pair of eyes on them as they begin their married lives together. Many couples now opt for a few dance lessons ahead of the big day in order to display some level of skill during their first dance, and some may even request to be taught a full routine in order to take a turn around the floor. At other weddings, it could even be the full bridal party performing a dance that they have learnt!
According to the wedding website Hitched, the top few first dance wedding songs include:
I Don't Want To Miss A Thing; Aerosmith
Amazed; Lonestar
Wherever You Will Go; Charlene Soraia
A Thousand Years (feat. Steve Kazee) [Part 2]
Iris; The Goo Goo Dolls
I'm Yours; Jason Mraz
At Last; Etta James
Truly Madly Deeply; Savage Garde
Ultimately, when it comes to first dance songs, there's a lot of pressure to make it a good one. If you and your significant other have the same taste in music, then deciding on a first dance song should hopefully be easy. Most couple therefore choose a classic first dance song, with tunes are timeless, making them most likely to remember them fondly. If slow songs aren't for you, don't be afraid to increase the tempo a little bit with a faster number. An upbeat first dance song will bring a smile to everyone's faces!