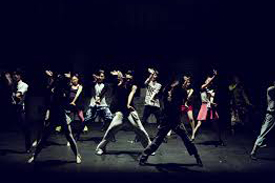 Sadler's Wells' annual dance taster festival Sadler's Wells Sampled returns for 2019, featuring world-class performances and a series of workshops and activities on Friday 8 and Saturday 9 February. A regular fixture at Sadler's Wells since 2007, Sadler's Wells Sampled showcases a wide variety of dance, from ballet to waacking, and contemporary dance to classical Indian dance.
Appearing on both evenings, an eclectic line-up of renowned performers and dance companies comprises Mavin Khoo, Richard Alston Dance Company, Uchenna Dance, BirdGang, Patricia Guerrero, Semperoper Ballett and Rambert2. The schools' matinee features a reduced programme, with Uchenna Dance, BirdGang and Semperoper Ballett appearing. Workshops take place throughout the day on Saturday 9 February.
Many of the artists appearing at Sadler's Wells Sampled performed at the venue in its 20th anniversary year of 2018, whilst flamenco soloist Patricia Guerrero appeared at Flamenco Festival London in 2017; and Uchenna Dance, who performed as part of UK tour Dance:Sampled last year, makes its Sadler's Wells debut at Sampled 2019.
Sampled is the opportunity to enjoy a diverse range of world-class artists and dance genres in one programme, at a reduced price. It is a chance for new audiences and dance fans who are not so familiar with all the different styles presented to discover how rich and varied the art form is.
Sadler's Wells is a world-leading creative organisation dedicated to dance in all its forms. With over three centuries of theatrical heritage and a year-round programme of performances and learning activities, it is the place where artists come together to create dance, and where people of all backgrounds come to experience it. Sadler's Wells commissions, produces and presents more new dance work than any other theatre in the world. Since 2005, it has helped to bring over 160 new dance works to the stage, many of them involving its 16 Associate Artists, three Resident Companies and four Associate Companies.