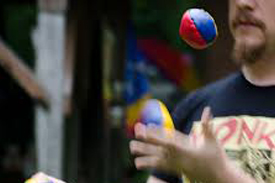 Gandini Juggling's collaboration with contemporary choreographer Alexander Whitley Spring is an exhilarating cross-artform enquiry into the nature of colour and how we perceive it. The show comes to Sadler's Wells as part of the London International Mime Festival from 31 January to 2 February. It will therefore make its Sadler's Wells main stage debut with a kaleidoscopic collaboration with Whitley.
Gandini Juggling has been pushing the boundaries of juggling as an art form and playing with dance languages for some time. 2010's Smashed was an homage to Pina Bausch, 2015's 4×4 Ephemeral Architectures was a dialogue between juggling and ballet, 2017's Sigma explored south Asian classical dance form bharatha natyam. Featuring nine virtuoso performers – five jugglers and four contemporary dancers – Spring challenges impressions of movement and physicality, embracing deconstructed rhythms and jubilant patterning with Gandini's signature flashes of humour.
Guy Hoare's pop-art lighting opens the show, flooding the stage with the three primary colours of red, blue and yellow before moving through black and white to 22 pastel shades in a kaleidoscopic celebration. Gabriel Prokofiev's darkly futuristic sound score for vintage synthesiser and strings, performed live at Sadler's Wells by Camerata Alma Viva and two drummers, plays off the mathematical patterns of juggling, using the time signatures of 7/4 and 5/4 which are so often its rhythms.
Spring is co-produced with Cambridge Junction; LIMF; and Plateforme 2 pôles Cirque en Normandie / La Brèche à Cherbourg et le Cirque-Théâtre d'Elbeuf . Spring is supported by artsdepot; Arts Council England; Birmingham Hippodrome; CIRCa pôle National des Arts du Cirque Auch Gers Occitanie; Lighthouse Poole; Theatre Op de Markt.
Gandini Juggling was founded in 1992 by Sean Gandini and Kati Ylä-Hokkala. They collaborate with a wide range of cultural leaders and are influenced by a range of disciplines. Since their inception Gandini Juggling have performed more than 5,000 shows in 50 countries and present work at many of the world's most prestigious festivals and venues.