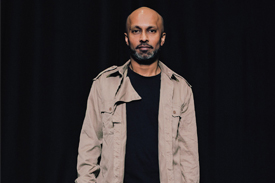 Akram Khan is one of the most celebrated and respected dance artists today. In just over 18 years he has created a body of work that has contributed significantly to the arts in the UK and abroad. His reputation has been built on the success of imaginative, highly accessible and relevant productions such as Xenos, Until the Lions, Kaash, iTMOi (in the mind of igor), DESH, Vertical Road, Gnosis and zero degrees.

An instinctive and natural collaborator, Khan has been a magnet to world-class artists from other cultures and disciplines. His previous collaborators include the National Ballet of China, actress Juliette Binoche, ballerina Sylvie Guillem, choreographers/dancers Sidi Larbi Cherkaoui and Israel Galva´n, singer Kylie Minogue, visual artists Anish Kapoor, Antony Gormley and Tim Yip, writer Hanif Kureishi and composers Steve Reich, Nitin Sawhney, Jocelyn Pook and Ben Frost.
Khan's work is recognised as being profoundly moving, in which his intelligently crafted storytelling is effortlessly intimate and epic. Described by the Financial Times as an artist "who speaks tremendously of tremendous things", a highlight of his career was the creation of a section of the London 2012 Olympic Games Opening Ceremony that was received with unanimous acclaim.
As a choreographer, Khan has developed a close collaboration with English National Ballet and its Artistic Director Tamara Rojo. He created the short piece Dust, part of the Lest We Forget programme, which led to an invitation to create his own critically acclaimed version of the iconic romantic ballet Giselle.
Khan is also an Honorary Graduate of University of London as well as Roehampton and De Montfort Universities, and an Honorary Fellow of Trinity Laban. Khan is an Associate Artist of Sadler's Wells, London and Curve, Leicester.
How did you first get involved in dance?
My mother originally pushed me into being involved in dance from about the age of three – she was very good at bribing me by feeding me food I liked to make me go to dance classes. I didn't want to put on a sari and wear makeup! But when I was seven, I saw Michael Jackson in concert and I think my mum knew I didn't need to be pushed anymore – I fell in love with it and it went from there.
Have always wanted to be on stage?
No not always – I constantly go back and forth between loving and hating being on stage. I often prefer dancing for myself rather than for thousands of people. When you're on stage you completely bare yourself to the audience, it's one of the most sacrificial things you can do. A lot of the time I prefer directing to performing. Its so exciting to be able to create a vision with your collaborators without having to worry about the pressure of doing it yourself.
Where did you train, and what was it like?
I first trained with Peter Brook for two and a half years when I was 13 years old performing in The Mahabharata. I was travelling the world performing with actors constantly moving from one place to another and it was a completely different way of living. When I came back home, it was a real shock for me and I didn't quite know how to deal with having to go back to the normal life of a teenager. I remember I would hide in the garage and bunk off school, I didn't really know what to do with myself. I eventually realised that I was bored of doing nothing all the time, so I started training and dancing again.
Describe a day in your life now.
Every day I'll train from 6am-9am. I'll then get a car to the studio which I will spend on the phone to my assistant, doing meetings and taking calls. From around 10am-1pm I will work in the studio. I'll have a lunchbreak in which I might have more meetings, and then from 2pm-6pm I will continue working in the studio with the company. I'll then take a car back home and from 7pm-9pm I'll spend time with my kids. Once they're in bed I'll do some work on my own projects, and will normally watch an episode of something on Netflix before going to bed about 1am.
How important are your diverse training and experiences in your work today?
All my training has been important, but nothing has been more so than my singular training in Indian classical dance. It always feeds back into my work and people really connect with it. That year I spent training was probably the most important part of my life.
What have been the top three defining moments of your career?
Working with Peter Brook, choreographing for the opening ceremony of the London 2012 Olympics, and I hope there are still defining moments to come!
What have been the most challenging?
The most challenging thing about my career has been finding the balance between being an artist and a father.
What's the most rewarding thing about dance?
It would probably be finding the space to really feel again. We are obsessed with sight and sound, but we aren't as connected to touch, smell, feel and taste. Dance can really evoke those feelings.
How long does it take you to develop a new piece?
If it's a full-length piece, the whole process will take about three years from start to finish. The first year will be spent conceptualising and collecting the ideas, the second year would be spent in the studio, playing with those ideas and trying things out. The third year would then be used to commit to everything we've explored and really form the piece. It will keep developing and evolving from there.
Do you have any pre-show rituals, either if you're performing or watching your own creations?
If I'm performing, I have to mute all sound around me and just be still. If it is work that I have choreographed or directed and I am watching, I do the complete opposite and try and distract myself from everything around me- it's too nerve wracking otherwise.
Who or what inspires you every day?
Everyday people and stories are what inspire me, I love taxi drivers – their stories are amazing, I love chatting to them. I like things that seem normal but in fact have something different lying beneath. Everything is about conformity and I like to break to norm – that's what art does. It tells a story in the way that other things simply cannot.
What does it mean to say goodbye to this piece in particular?
It means I say hello to the next piece of work, but I will always carry it with me. It's like when you lose a loved one; you say goodbye but you carry the memory and the experience with you always. That piece will always be imprinted on my body.
How – if at all – has the rehearsal process been different this time? How has your experience of the piece or your collaborators changed?
I think rehearsals are going to be very different this time round. The dancers have evolved and I haven't been in the piece for a long time. I have been working on my solo project XENOS, so I will bring that energy to it. There will probably be things that I will change from last time, there is real no end to learning about yourself or making a new piece of work. I'm excited to see where it takes the piece.
Can you sum up the journey you have come on with Until the Lions in one sentence?
Time is but a river flowing from our past.
What is your advice to an aspiring dance artist?
My advice is always to give no advice – the moment you give advice you are saying what is right and wrong and what is right and wrong to me will be very different to someone else. You are your own truth and only you know that. If I had to say anything at all, it would be only to do it because you love it and it makes you happy.
What's next for you?
I'm creating a new piece called Outwitting the Devil which will open at the COLOURS International Dance Festival in Stuttgart next year. It's inspired by 'The First Supper', a reinterpretation of Leonardo Da Vinci's 'The Last Supper' by Australian artist Susan Dorothea White which I'm really excited about. I also have my second documentary for Channel Four coming out called The Curry House Kid, in which I will be exploring the epic story of immigrant success by immersing myself in the Bangladeshi-owned curry houses of Brick Lane.