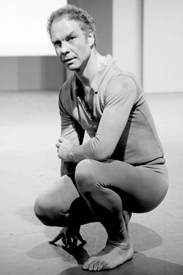 As part of the Merce Cunningham Centennial, a global celebration of the iconic American choreographer, the Barbican presents Night of 100 Solos on 16 April 2019, which would have been Cunningham's 100th birthday. The dancers and creative teams have all been announced for Night of 100 Solos in London, New York and LA.
Being the largest Cunningham Event ever conceived, 75 dancers will be distributed across the three venues: the Barbican; BAM in New York City and UCLA's Center for the Art of Performance in Los Angeles. On each of these stages, dancers will perform a unique collection of 100 solos Cunningham choreographed over the course of his career, with live music and a bespoke set design. Nearly half of Cunningham's former company members will participate in the creation of this Event, led at the Barbican by Londoner Daniel Squire.
The Barbican honours Cunningham's history at the Centre, with the performance featuring a solo from every world or European premiere Cunningham presented here. Dancers are drawn from companies including The Royal Ballet, Michael Clark Company, Candoco Dance Company, BalletBoyz, and Scottish Ballet. The 25 dancers at the Barbican are: Harry Alexander, Matthew Ball, Elly Braund, Siobhan Davies, Inés Depauw, Daphne Fernberger, Jonathan Goddard, Asha Gracia, Thomasin Gülgeç, Francesca Hayward, Hannah Kidd, Catherine LeGrand, Sophie Martin, Estela Merlos, Mbulelo Ndabedi, Michael Nunn, Rowan Parker, Else Raymond, Joseph Sissens, Beatriz Stix-Brunell, Toke Strandby, Asha Thomas, Billy Trevitt, Luc Verbitzky, and Ben Warbis.
Music Coordinator Christian Wolff will work with musicians Mira Benjamin, John Lely, Anton Lukoszevieze, and Christian Marclay to provide the score. The performance features Shadows Cast by Readymades, a black-and-white video collage that the late Richard Hamilton made for a Cunningham performance at the Barbican in 2005. The video draws on the works of Marcel Duchamp, whose groundbreaking ideas inspired Cunningham, Cage, and Hamilton.
This exceptional programme celebrates the vibrant legacy of an artist whose unparalleled body of work helped to drive the evolution of the American avant-garde and expanded the frontiers of contemporary visual and performance arts.