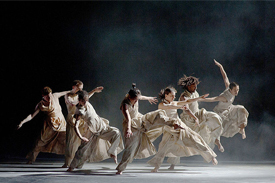 Akram Khan Company has announced a brand-new production: Outwitting the Devil will premiere in Stuttgart in July 2019. The announcement comes six weeks ahead of Until the Lions' homecoming to the Roundhouse in London, Khan's first ever work in the round, which he will dance for the last time. Both pieces of work will explore old myth and reinterpret them in a contemporary context, in a way that Khan has become renowned for over the last two decades. Outwitting the Devil will premiere at COLOURS International Dance Festival, running from 13-14 July, and Until the Lions runs at the Roundhouse from 11-17 January 2019.
Khan's inspiration for Outwitting the Devil came from Leonardo da Vinci's mural 'The Last Supper', depicting the final meal that, in Gospel accounts, Jesus shared before his crucifixion. Khan recalls studying the painting as a child at school and feeling unable to see himself reflected in it. Later in life he encountered the reinterpretation of the work, 'The First Supper' by Australian artist Susan Dorothea White, portraying 13 women from around the world. The figure in the position of Leonardo's Christ is an Aboriginal woman, and Judas is the only white woman in the painting. This inspired Khan to create a challenging piece, redefining the coming together to share food in a time of limited resources.
Khan reunites with some of his close artistic collaborators for this production: dramaturg Ruth Little, composer Vincenzo Lamagna, writer Jordan Tannahill, rehearsal director Mavin Khoo, costume designer Kimie Nakano – joined by lighting designer Aideen Malone and visual designer Tom Scutt. He gathers an international cast of six performers to bring Outwitting the Devil to life.
Until the Lions will return to London's Roundhouse for six performances in January, with Khan dancing the role of Bheeshma for the final time. Created for the unique setting of the Roundhouse in January 2016, the inspiration for the piece is taken from poet Karthika Naïr's book Until the Lions: Echoes from the Mahabharata, an original reworking of the ancient Sanskrit epic. Tapping into his classical roots, Khan combines the Indian dance form kathak and contemporary dance to explore the themes of gender and time. Until the Lions is a battle for justice and liberty, following one of the unsung heroines of the Mahabharata: Amba, a princess abducted on her wedding day who seeks revenge from the gods. This theatrical piece marks Khan's return to the epic tale, having begun his professional career performing in Peter Brook's own decade-defining production in 1985. Khan will perform alongside Ching-Ying Chien and Joy Alpuerto Ritter, and four musicians.