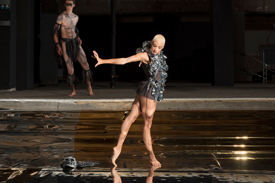 Britain's leading contemporary dance company is inviting the world's finest early-career dancers to join Rambert2, Rambert's second ensemble designed to develop and showcase the next generation of highly skilled, thinking dancers. Open auditions for the 2019/20 cohort will be held at Rambert's studios in London from 3 – 6 February 2019.
The inaugural Rambert2 cohort attracted over 800 applicants, who attended open auditions at Rambert's London studios in February. 13 dancers were chosen, with training from centres in Asia, America and Europe. A second cohort will form Rambert2 for 12 months from the end of July 2019. During their year, dancers will complete a postgraduate qualification, MA in Professional Dance Performance.
For the 2019/20 season, Rambert2 will work with choreographers Andrea Miller and Jermaine Spivey, who have been commissioned to create two new dance works for the ensemble. These works will form part of a mixed bill to tour the UK, including Sadler's Wells in autumn 2019. The company will continue to tour schools with Kamuyot, a dance work created by choreographer Ohad Naharin for schools and other non-theatre spaces.
Andrea Miller is the founder, Artistic Director and choreographer of Brooklyn-based company Gallim. A sought-after creator and collaborator in dance, art, film, theatre, tech, and fashion, Miller was named 2017/2018 Artist in Residence at The Metropolitan Museum of Art, becoming the first choreographer to hold that distinction.
Jermaine Spivey is an award-winning dancer, educator, and choreographer. As a choreographer he has most recently created for Westside Dance Project, Salt Contemporary Dance as well as a full evening work premiered at Disjecta in Portland, Oregon. He has worked closely with Crystal Pite since 2008 as a dancer and has staged her works for companies such as Cedar Lake Ballet, Carte Blanche, Hessisches StaatsBallett Wiesbaden and Netherlands Dance Theater.
Rambert2 is the first junior ensemble attached to a UK repertory company – something practised with great success by companies in other countries, including Alvin Ailey American Dance Theater and Nederlands Dans Theater. It is the first programme in the world to integrate professional experience at the highest level with postgraduate study.
Rambert2 dancers complete a 12-month programme with four strands: training, performing, academic study, and outreach activity including schools' workshops and community events.