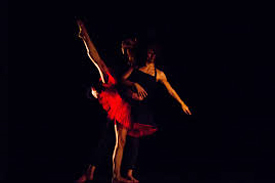 Being an apprentice dancer is often the first step for any aspiring young hopeful aiming to make a career from the performing arts industry. It is a useful way of 'getting a foot in the door' of a company; the first rung of the ladder.
Therefore the life of an apprentice is very much about learning, and continuing to learn every day. Every day is usually the same: class and rehearsals. This is a hugely beneficial way of honing your technique and dance style, observing other dancers and learning constantly as you pick new things up from your peers. Being an apprentice is certainly the the most junior position in the company's pyramid, but it enables young dancers to grow and begin to develop their dance career.
A bonus on top of this is the fact apprentice dancers get to work professionally with directors, and discover new things about them as a dancer – and their bodies – along the way. As an apprentice, a place in the lines of the chorus or corps de ballet is not guaranteed, and dancers may be called to many rehearsals, but they may not perform on stage all the time, or at all, just taking a spot in order to learn. Some dancers are lucky and rise through the ranks, others may go through their whole career competing with their neighbour to be noticed.
It is important to remember that apprentice dancers are expected to be proactive and enthusiastic, and to learn choreography fast, be ready for emergencies, to overcome any technical difficulties and many other things. Company life is a very different environment to that of dance or ballet school. Being an apprentice can set you up for lift as a dancer – professionalism is expected at all times, to see if you are able to handle the hard work a company goes through, and if you can handle the pressure that is put on your body and mind. Opportunities are earned, so put your best food forward and try your best!