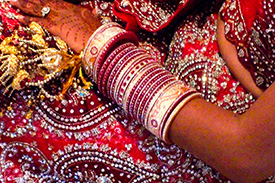 After a sensational UK premiere in 2017, Taj Express returns to London's Peacock Theatre from Tuesday 2 October – Saturday 20 October 2018. Following a successful tour of America, the production will return from Film City, Mumbai, bringing the kaleidoscopic colours of India into the heart of London's West End.

Taj Express follows the story of one man's passion and another man's genius. Young composer Shankar struggles with his music, and it's only when he begins to follow in the footsteps of his idol, A.R. Rahman, that he discovers his path to success. The production reveals the secrets of the world's most prolific film industry, and the people behind the screen who make the magic of Bollywood happen.
Taj Express blends explosive dance with the hits of some of India's most iconic composers, brought to life by Bollywood stars and musicians live on stage. It includes an unforgettable soundtrack featuring the songs of Oscar winner A.R. Rahman, composer of Danny Boyle's 2008 film Slumdog Millionaire. Taj Express also combines the talents of sisters Vaibhavi and Shruti Merchant, the former choreographing, and the latter directing. The pair were part of the creative team behind The Merchants of Bollywood, based on the life of their grandfather Shri Hiralalji and Vaibhavi herself.
Taj Express will tour the UK throughout autumn 2018, with performances at Birmingham Hippodrome (11-15 September); Empire Theatre, Liverpool (17 September); Regent Theatre, Stoke (18 September); Hull City Hall (19 September); Lyceum Theatre, Sheffield (20-22 September); New Victoria Theatre, Woking (24 September); Wycombe Swan (25 September); Corn Exchange, Cambridge (26 September); Pavilion Theatre, Bournemouth (27 September); Charter Theatre, Preston (28-29 September); and The Peacock, London (2-20 October).
Taj Express is written by award-winning international musical theatre writer and director Toby Gough. Gough is the creator of hit shows such as The Bar at Buena Vista, Lady Salsa and Havana Rumba!