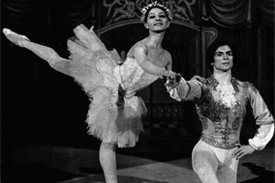 NUREYEV, from BAFTA nominated directors Jacqui and David Morris, will be launching in cinemas nationwide from 25 September 2018, with daily previews at Curzon Mayfair, London from 21 September. The striking and moving documentary traces the extraordinary life of Rudolf Nureyev, the most famous male ballet dancer of all time, who transcended the dance world to become a global icon. It charts his rise from humble beginnings, to his eventual defection to the West, an event that shocked the world.

As well as providing an unparalleled insight into the man, Nureyev contextualises the time in which he lived, exploring the charged political divide between Russia and the West and the critical role that Nureyev played as a cultural and global phenomenon. Blending never-before-seen footage, an original score by award-winning composer Alex Baranowski, and a series of exclusive modern dance tableaux – produced by Rattling Stick and directed by Royal Ballet alumnus Russell Maliphant – Nureyev is a theatrical and cinematic experience like no other biopic.
The film was made with the support of The Nureyev Foundation, and with narration by Dame Siân Phillips. Other contributors include Nureyev's contemporaries from the dance world: Alla Osipenko, Ghislaine Thesmar and Dame Antoinette Sibley, dance experts Clement Crisp, Meredith Daneman and the late John Gruen, historian Evan Mawdsley and Nureyev's personal friends Tamara Zakrzhevskaya, Leonid Romankov and Liuba Myasnikova.
Jacqui and David Morris (Frith Street Films) were nominated for two BAFTA awards for their debut feature McCullin about legendary war photographer Don McCullin, whilst their follow-up, Attacking The Devil: Harold Evans and the Last Nazi War Crime re-opened the national debate about the horrific legacy of the thalidomide scandal. It went well on to win the Special Jury Award at the Sheffield Documentary Fest and the Greirson Award for Best Historical documentary.