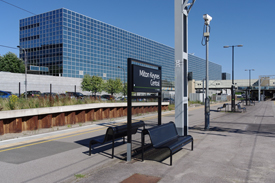 From 20–29 July, IF: Milton Keynes International Festival will transform the physical spaces of Milton Keynes and invite people to see a different side of the city with 10 days of new outdoor theatre, large and small-scale performance, circus, stand-up comedy, live music, family activities and free events.
For 2018, Festival director Monica Ferguson and creative director Bill Gee have put together a programme of performance exploring migration, identity, community and home, including a number of UK premieres. The full programme has now been announced and will see giant insects stalking the city streets, an immersive night-time adventure in the woods, a Circus Hub in an iconic shopping centre, a new composition for multiple bicycle bells, and a political ghost train ride.
There are also a number of highlights for the festival, providing something for all the family to enjoy. A UK premiere will feature as part of the festival programme: Schweigman& with Slagwerk Den Haag: For The Time Being. The piece will run on Sunday 23 and Monday 24 July at Milton Keynes Theatre as a first for the company, and it is encouraging to see this work – and a UK premiere – outside of London for its first port of call.
Dutch artist Boukje Schweigman, artistic director of Utrecht's Schweigman& creates wordless visual and musical theatre which sharpens the senses. Here she works with percussion group Slagwerk Den Haag to create For The Time Being, a playful experiment with the audience's experience of time. This promenade performance is at the Milton Keynes Theatre which sees the venue taking part in the Festival for the first time.