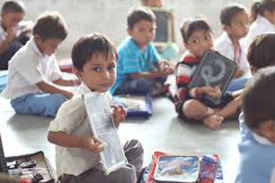 It has been revealed that the Paul Hamlyn Foundation will grant £750,000 a year to arts organisations, helping primary school teachers use the arts in their classrooms. Cultural organisations and primary schools will be supported to work collaboratively to bring the arts into classrooms across the UK, following the launch of the new fund earlier this year. The Teacher Development Fund will therefore invest around £750,000 a year in partnership projects that promote learning through the arts by providing teacher training.
The programme aims to address a confidence and skills gap potentially preventing teachers from delivering effective arts-based teaching, and will build upon and apply best practice in Continuing Professional Development and Learning. The programme follows on from a successful pilot, which found that helping teachers to adopt arts-based techniques was an effective way of teaching children a range of subjects and skills.
Each year the Teacher Development Fund will award five grants of up to £150,000 for two-year projects that involve one or more arts organisations and between five and ten schools. The Paul Hamlyn Foundation has said it will prioritise applications that support pupils experiencing disadvantage in order to promote an effective partnership.
The two-year pilot saw seven projects receive support in June 2016. These involved the Royal Shakespeare Company sharing rehearsal room techniques to teach Shakespeare to primary school children, and orchestral musicians helping schools in South West Wales use music to teach modern foreign languages. An evaluation of the pilot programme found the projects were leading to an increase in pupils' confidence, skills and creativity, and teachers were becoming more confident in using arts-based approaches.
As a result, it was clear that teachers required support in order to become autonomous in their delivery of arts-based learning by minimising direct contact between artist practitioners and pupils.