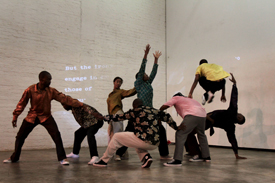 Dance Umbrella, London's flagship festival of international dance, will celebrate its 40th anniversary this autumn. To mark this milestone Dance Umbrella has launched Four by Four– a programme inspired by the festival's four decades of artistic growth, a way of moving forwards by looking back. This initiative aims to support the choreographers of the future.
In Four by Four all three of Dance Umbrella's Artistic Directors, Val Bourne CBE, Betsy Gregory and Emma Gladstone, have invited an established artist from their time at the helm to nominate a 'choreographer of the future' to make work for future festivals. Dance Umbrella 2018 will take place from 26 September – 21 October in venues across London
Anne Teresa de Keersmaeker, Stephen Petronio, Akram Khan and Rocío Molina will each nominate four young, up-and-coming choreographers to receive funding from Four by Four to create a show that will be performed in future festivals. The selected recipients will be announced during the festival this autumn.
Through this new development programme Dance Umbrella can continue to support and nurture exceptional talent. This way it will be an acknowledgement of the history of Dance Umbrella whilst still looking to the future, by asking the wisdom of artists who have had a significant impact on the festival and the wider contemporary dance scene.
In Dance Umbrella's first decade (1978–1988) choreographers such as Anne Teresa de Keersmaeker, Trisha Brown, Merce Cunningham, Compagnie Cré-Ange, Steve Paxton and Mark Morris were among the international artists invited to perform in London, together with the UK's Siobhan Davies, MAAS Movers, Rosemary Butcher, Richard Alston, Michael Clark, Jonathan Burrows and Shobana Jeyasingh among many, many more.
Over the years Dance Umbrella has gone on to provide an astonishing eighty artists with essential funds to make shows, acting as a catalyst by investing in their visions and enabling audiences to see truly pioneering dance. Dance Umbrella's belief in the power of helping artists in this way still burns bright and Four by Four is a celebration of this legacy as the festival looks to the next forty years and beyond.