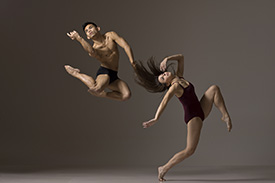 Thursday 9 November saw Britain's leading contemporary dance company live stream a day of exclusive behind-the-scenes content as part of Rambert Live. The day provided audiences with exclusive access to Rambert dancers' daily activities and rehearsals of new work in the making, in addition to live studio performances created by Rambert dancers and associates. Later in the day, arts and education leaders discussed the future of dance in schools.
Rambert presented a total of 10 hours exclusive online access, broadcast on the Rambert Facebook page and website, where it is also available to catch up on. The day-long stream started with morning class, where the dancers worked to fine tune their skills starting with basic technique, before turning up the pace with high speed, physical movement, warming up for the day ahead. Viewers also saw brand new choreography created on the company by internationally-renowned choreographer Kim Brandstrup, rehearsing Life is a Dream ahead of its premiere at Sadler's Wells in May 2018.
The afternoon saw arts writer and broadcaster Sarah Crompton chair a panel of leading figures in education and the arts, entitled 'Rambert in conversation: What is the future for dance in schools?' Discussion on this pressing issue included that by Arlene Phillips (choreographer and BACC for the Future campaigner) and choreographer James Cousins. Sandra Allan (Head of Curriculum – Creative Arts, AQA), Ray Oudkerk (Assistant Principal of Performing Arts, The BRIT School) and Claire Somerville (Head of Children & Young People's Dance, One Dance UK) also contributed, followed by studio performances of dance work created and performed by Rambert dancers and associates.
Rambert – as a dance company – presents new and historic dance works to audiences in all parts of the country, performed by world-class dancers and accompanied by live music. Rambert has the most extensive national touring programme of any UK contemporary dance company, and initiatives like Rambert Live take the company further, beyond the studio walls.