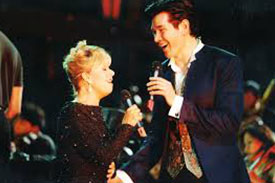 Star of Half a Sixpence Charlie Stemp, and theatrical legend Elaine Paige, are set to star in this year's London Palladium pantomime. Both individuals are successes in their own right, however this partnership looks like one set for stardom.
Stemp, who graduated from Laine Theatre Arts only recently, will take on the title role in the production of Dick Whittington. His musical theatre experience is explosive however, performing at the Noel Coward Theatre, for which he won a WhatsOnStage Award for Best Actor in a Musical, in Half a Sixpence. Paige is an out and out musical theatre icon. She originated the role of Grizabella in Cats, and played many other roles to great acclaim. Paige will play Queen Rat in the panto which runs from 9 December.
This year's London Palladium pantomime, Dick Whittington, will also include dance troupe Diversity with Ashley Banjo, bringing further dance talent to the stage in the centre of London. Actor Gary Wilmot will also feature in the production as The Sultan; they will join the previously announced Julian Clary (playing Spirit of the Bells), Nigel Havers (playing Captain Nigel) and Paul Zerdin (playing Idle Jack). This all-star cast will be a unique treat for audiences watching the pantomime, far cry from regional pantomimes boasting equally as interesting starring roles.
Last year's production of Cinderella, which starred Amanda Holden, saw pantomime return to the theatre for the first time in 29 years. As a Christmas tradition, it is only fitting that this year's Dick Whittington pantomime should also feature as part of the theatre's programming, a spectacular Christmas treat for all the family.