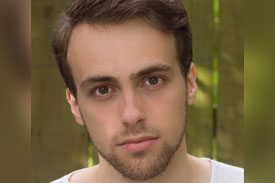 Stanley Hodgson trained at LAMDA. Recent credits include: James and the Giant Peach (Northern Stage); Manifesto for a New City (Northern Stage/Live Theatre); Much Ado About Nothing (RSC); Breakfast Hearts/Choirplay (The Six Twenty/Live Theatre); Rum, Sodomy and the Lash (Channel 4). It was his experience at Northern Stage which led to the forming of The Letter Room, and the consequent creation of No Miracles Here.

No Miracles Here, a live and loud musical tale of dance marathons, is playing at the Edinburgh Fringe Festival this year. It tells the story of what happens when humans don't dare to stop; it is about living and breathing and not always feeling like you can continue to do so, a story of dancing and how the band will keep playing music even when you want to give up.

Inspired to make a musical about depression, and using the influences of 1930s Dance Marathons, The Letter Room will look to explore the idea of dancing as a form of endurance, paralleling the feeling when humans must keep going and not stop. It will take place at the Northern Stage at Summerhall, Edinburgh, from 5 – 26 August 2017, brought to the Scottish city by acclaimed company The Letter Room.

Have you always wanted to be involved in the performing arts?

Pretty much. I think I've always been a show off, deep down. I don't know that the career is quite what I imagined it would be, but it really is brilliant, and I love being part of a company.

Where did you train, and what was it like?

I trained in acting at LAMDA. I was then part of Northern Stage's NORTH residency in 2013, which is where we formed The Letter Room.

Describe a day in your life now.

We're underway with our Fringe. So we are now getting up at 8am, rehearsing the show, still tinkering and looking at little moments. We perform our show at 11am, and the rest of our day is seeing work, flyering and resting our legs.

What is it like being part of the Letter Room?

It is a never-ending sense of anxiety, followed by euphoria, followed by dread. It tends to repeat those three emotions as we make work, and then doubt it and then love it again.

Can you describe No Miracles Here in three words?

Energetic, chaotic, noisy (in a good way)

What can audiences expect to see?

It'll feel like a raucous soul gig, but there's going to be a lot of dancing thrown into it. By the end, you'll see some very sweaty, emotionally drained performers!

What has been the defining moment of your career overall?

For the company, we began work on this project at The Royal Shakespeare Company, at The Other Place. It was incredibly exciting to be working in such a prestigious building and it really helped the development of the show.

What has been the most challenging?

One of the challenges is having a group of six creators and performers all contributing to one project. Sometimes there's a lot of voices and a lot of strong opinions, but mostly we agree on things.

What's the most rewarding thing about the performing arts in general?

A lot of us work as job-in actors, but in this company we're responsible for the whole project from start to finish, and that's very rewarding. This project is also very personal, so it's a special thing to see our writing, our music and our real stories put onto the stage.

What's the worst thing?

Long hours and low pay are the obvious ones, and a lot of those we forget about because you care so much about what you're doing (not that that is the best attitude, but it is true for a lot of people).

Do you have any pre-show rituals?

We have a special dance routine to 'Funkytown' by Lipps Inc. It's a bit silly but it helps us get up for a show!

What is your advice to an aspiring performer?

Keep going and keep having faith in what you're doing. It's cheesy I know, but particularly in Edinburgh it's easy to doubt yourself and what you do. But if you're up in Edinburgh, or anywhere, and are putting your work in front of people then that's a pretty amazing thing.

What's next for you?

'No Miracles Here' is heading on tour in September to The Lowry and Shoreditch Town Hall, and then hopefully there will be some more shows next year.