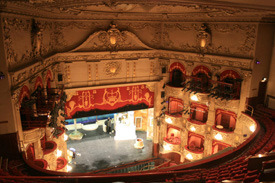 The BBC has recently unveiled a new radio programme which is dedicated solely to regional theatre. Radio 4's Opening Night will visit a different UK town or city each month and meet the actors, writers and directors working on local professional productions. The plans for the news show followed an announcement of a regional theatre show last year, to showcase the wealth of talent in that area of theatre. For most audiences this form of theatre makes up the majority of their theatre-going habit.
The first episode of Opening Night was aired last week on 5 August, visiting the Edinburgh Festival Fringe; episode two which will be aired on 2 September will focus specifically on the East Midlands and Leicester, on Curve's new production of Sunset Boulevard. Belfast International Festival will feature in episode three on 7 October, with Liverpool's Everyman and Manchester's Royal Exchange also planned to appear on the programme at a later date. Opening Night will also visit smaller venues, such as Cardiff's the Other Room and Exeter's Bike Shed, as well as touring organisations such as Paines Plough.
Opening Night will be a programme dedicated to regional theatre, in order to celebrate these performances and productions, showcasing the many aspects of British theatre and how regional audiences respond to different theatrical productions. The programme will also work to decipher the challenges facing the regional theatre industry, including the lack of funding. The programme therefore aims to increase the quality and quantity of theatre coverage on the radio, focusing on some of the most exciting and inventive productions across the country.
Each programme will be presented by a different BBC journalist with knowledge of the region, with guests for the first show including director of Edinburgh International Festival Fergus Linehan, playwright Zinnie Harris and Jackie Wylie, artistic director of National Theatre Scotland.