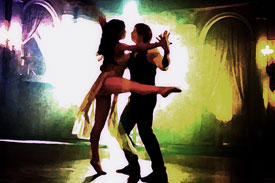 National Youth Dance Company, the country's flagship organisation for young dancers which is run by Sadler's Wells, will work with renowned choreographer Sharon Eyal as the next Guest Artistic Director of the company. NYDC continues its search for the next intake of 30 young dancers to join the company for 2017-18, and work with Eyal to create a new dance production, with Experience Workshops taking place across England throughout July.
Eyal takes over from the previous Guest Artistic Director of NYDC, Belgian choreographer Damien Jalet. Tarantiseismic, Jalet's production with the National Youth Dance Company, premiered at Sadler's Wells earlier this year and performs across England this summer as part of a UK tour.
One of the most exciting female choreographers working today, Sharon Eyal was born in Jerusalem and danced with Batsheva Dance Company from 1990 until 2008. She served as Associate Artistic Director of the company from 2003-4 and House Choreographer of the company from 2005-12. In 2013, Eyal launched L-E-V with her long-time collaborator Gai Behar. L-E-V presented the UK Premiere of OCD LOVE at Sadler's Wells last year and premieres new work Love Chapter 2 at the Montpellier Dance Festival later this summer. Her other choreographies include Killer Pig and Corps de Walk for Carte Blanche Dance of Norway, Too Beaucoup for Hubbard Street Dance Chicago, Plafona for Tanzcompagnie Oldenburg, Germany, Sara and Salt Womb for Nederland Dance Theater, Half-Life for the Royal Swedish Ballet and Untitled Black for the Goteborg Opera.
Eyal has a distinct approach to her choreography by working collaboratively with dancers to bring the work to stage, which will be important for collaborating with the National Youth Dance Company and giving members the opportunity to shine. The style of work, such as the use of club music, will tune in to the experiences of the young NYDC dancers, and no doubt produce something special for audiences to see.