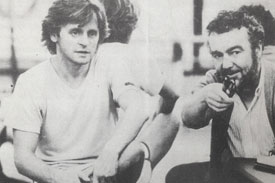 Ballet legend Mikhail Baryshnikov recently attended National Ballet of Canada's MAD HOT BALLET: Northern Lights, this year's annual fundraising gala for the company. Baryshnikov was a special guest of the company last month, celebrating Canada's 150th anniversary. Baryshnikov has always been hugely supportive of the company, and of close friend Karen Kain's work, as Artistic Director of National Ballet of Canada.
It is widely known that Baryshnikov has a strong connection with National Ballet of Canada. Just weeks after he defected from Russia in 1974, he performed La Sylphide with Veronica Tennant at Ontario Place for an audience of over 10,000. In becoming the special guest of the ballet company at MAD HOT BALLET: Northern Lights, it further emphasised the celebration of Canada's sesquicentennial with this iconic ballet figure in attendance. Ahead of the 2017 activities and celebrations, MAD HOT BALLET has raised over $10.5 million to support the artists and activities of National Ballet of Canada to date. MAD HOT BALLET: Northern Lights is thought to have raised over $1 million in just one outstanding evening of performances.
The special evening began with an hour-long gala performance celebrating Greta Hodgkinson's 25th anniversary with National Ballet of Canada, and her 20th anniversary as Principal Dancer. The event also celebrated Xiao Nan Yu's 20th anniversary with the company, marking a special evening for both dancers. Following the gala, a reception with themed cocktails and hors d'oeuvres ensued, with VIP guests enjoying a private dinner onstage as a unique element of the evening. The event culminated with dancing with the Artists of the company, demonstrating National Ballet of Canada in full fundraising spirit.
This year's gala also honoured luminaries of Canadian dance: Veronica Tennant, Evelyn Hart, Frank Augustyn and Artist-In-Residence Rex Harrington.