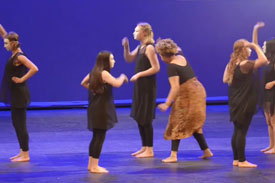 With choreography by Philippe Lafeuille, Chicos Mambo will return to Edinburgh Festival Fringe after 10 years, with the UK premiere of a spectacular new show, Tutu. Running from 2–28 August, Chicos Mambo will head back to the city after the company was a huge hit at Fringe a decade ago. 
After hundreds of performances worldwide, the company returned to Paris to create its new, wild and off-the-wall creation, Tutu. Full of rhythm and humour, over the course of 20 scenes six dancers become icons of classical ballet, contemporary dance, and rhythmic or even acrobatic dance. Tutu is an invitation to those who love dance to experience familiar favourites in a lovingly feisty way, and giving those new to dance an opportunity to explore some of the most famous and significant works in repertoire, from Swan Lake to Pina Bausch, with a twist.
The company takes on more than 40 characters in its theatrical and fanciful world. Chicos Mambo is well known for its sense of humour, as well as famous for its technical skills in dance, at its versatile and artistic best. Tutu will celebrate the 23rd anniversary of the company as an invitation to dance, presenting a take on the most significant dance works of the world.
The company was created in 1994 in Barcelona. That year, the first show was a success in Spain and France, and even won the prize of Company – Revelation in many competitions (Terradicim, Butaca, Sebastia Gasch). This success saw Chicos Mambo perform on the Spanish TV channel TV3, for which the company created more than 200 original sketches.
Philippe Lafeuille, responsible for the conception and choreography, decided to study dance after discovering work by Maurice Béjart. As a highly versatile artist, he danced in Madonna's productions as well as in Rudolf Nureyev's. His career as a choreographer began with Chicos Mambo, where he was principal dancer, and began to turn dance into comedy. Wishing to widen access to choreographic creations, Philippe manages projects including workshops in schools.