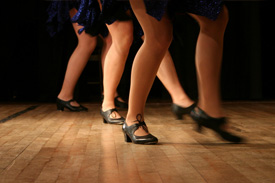 Groundbreaking tap dancer and choreographer Michelle Dorrance will bring her company, Dorrance Dance, to Sadler's Wells in London this summer, with the UK Premiere of ETM: Double Down. Opening on 12 July, the piece brings tap into the age of electronic music with collaborator Nicholas Van Young and electronic tap boards. Every step sets off an element of sound, building musical loops and turning the stage into a musical instrument too.
ETM: Double Down incorporates Afro-Brazilian, indie-pop, and pop star Adele, triggered by eight dancers' footwork. As an American dance form, Double Down takes tap to a new level. Dorrance Dance therefore aims to honour tap dance's unique history in a new context by upholding the traditional form, pushing its rhythmic, technical, and conceptual boundaries. The company is committed to expanding the audience of tap dance. By incorporating other forms that have shaped the foundation of American culture – such as street, club and experimental dance – Dorrance Dance highlights the traditional elements of tap dance and its musical rhythms in a contemporary light.
Founded in 2011 by Artistic Director and 2015 MacArthur Fellow Michelle Dorrance, the company has performed at venues including Jacob's Pillow, The Joyce Theater, The Kennedy Center, New York City Center, Lincoln Center Out of Doors, Vail International Dance Festival, National Arts Centre of Canada, Fira Tarega (Spain), and Staatstheater Darmstadt (Germany).
The company is currently touring its repertory nationally and internationally. It is rehearsing and creating new works in its NYC home and through additional creative residency opportunities. As Dorrance Dance continues to expand its programmes to help shape and educate the next generation of tap dancers, the company will partner with Nicholas Van Young's Institute For The Rhythmic Arts among other educational initiatives for the 2017-2018 season.