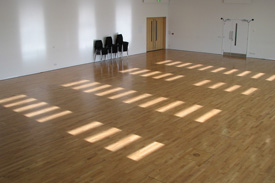 London's New Diorama Theatre recently opened ND2, a 4,000 square metre space, which will act as a creative hub by day and an events space by night. It is the largest rehearsal space in central London, with the theatre having signed a one year lease with London-based property developer British Land.
Once the busy trading floor for JP Morgan, this workspace, which is adjacent to the New Diorama Theatre in Regent's Place, has undergone a creative makeover. With an enormous Green Room in the 50m high central Atrium, it will be the pride of all the rehearsal space in the West End. The Atrium itself will become the ND2 creative hub by day, and transform at night to accommodate a multitude of events. The ND2 studio spaces, located on the first floor, are all large, bright rooms with climate control, full blackout capabilities, state of the art soundproofing and Wi-Fi facilities, as well as 24-hour security services.
ND2 is around 20 times the size of the current theatre space, and will provide – for the next year – free rehearsal time for NDT supported theatre artists. It will also mean free development space for the recently launched BAMER-led theatre companies, and some very large scale and ambitious productions. The new space will mean The New Diorama can invite artists from across the industry by offering some of the best, new rehearsal spaces in central London.
The New Diorama Theatre has been, without a doubt, a hugely valuable addition to Regent's Place, so with the addition of the new rehearsal space even more performing artists will be able to take advantage of the space. It will aid the theatrical landscape across all genres, helping even more theatre and its associates to continue to thrive.