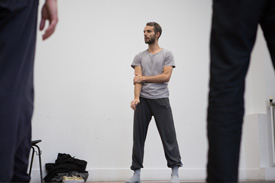 Choreographer Alexander Whitley is a New Wave Associate at Sadler's Wells, an associate of Rambert and an Artist Fellow at Queen Mary University London. In January 2017, Alex completed a month-long fellowship at New York University's Center for Ballet and the Arts.
In 2014 he launched the Alexander Whitley Dance Company (now based at DanceEast in Ipswich) and was nominated for a Sky Arts Southbank Award for choreography. His choreographic work to date includes: Pattern Recognition presented by Sadler's Wells, The Measures Taken (Royal Opera House), All That is Solid Melts into Air (Royal Ballet Studio programme), Beheld (Candoco), Frames (Rambert), The Murmuring (BalletBoyz) and Kin (Birmingham Royal Ballet); his collaboration with artists Revital Cohen and Tuur Van Balen: 75 Watt is now in the permanent collection of New York's MOMA.
A focus on bringing together dance and interactive digital technology has been at the centre of AWDC's work to date, exploring the potential for human movement and choreographic thinking to be extended into the digital realm. Whitley is currently collaborating with the Rutherford Appleton Laboratory, the UK's leading space science facility on his forthcoming world premiere for Sadler's Wells, opening 27 June. His piece 8 Minutes will bring together science and art, using movement, film and music to explore complex scientific subjects such as astroparticle physics.
Have always wanted to be involved in dance?
I started dancing when I was three years old so it's been a part of my life for as long as I can remember. My interests in dance have grown and broadened over the years, especially as I started to make my own work in my early twenties.
Where did you train, and what was it like?
I started training at a small dance school in rural Cumbria where I grew up. I was the only boy in the school but was lucky to have a great teacher who pointed me in the right direction. When I was eleven I left home to train full time at the Royal Ballet School in London. This was a very focused and disciplined training which gave me a solid technical foundation as a dancer, but was quite challenging at times, especially as you're away from home from such an early age.
Describe a day in your life now.
My working days vary quite a lot according to the project I'm working on and whether we're preparing for a show or performing it. However a typical day involves getting up early to get through as many emails as I can before going to the studio. We always start the day with a technique class for around an hour and a half, which I usually lead, and then spend the rest of the day rehearsing.
How important is your ranging and diverse experience in your work today?
It's very important. I stay inspired and engaged in my work by finding new challenges and new areas to learn about. This has kept me moving in my career – from ballet into contemporary dance and to the exploration of digital technology, science and design in my choreography. I love dance but I also love having interests outside of it to stimulate and inspire me in different ways. This all feeds into my work in one way or another.
What has been the defining moment of your career?
It's hard to identify any one occasion as a defining moment. I've been lucky to have had some great experiences over the years as a dancer and choreographer. Dancing Michael Clark's role in his piece Swamp shortly after joining Rambert was pretty huge, as was performing Siobhan Davies's Dying Swan solo and the prisoner in Christopher Bruce's Swan Song. Working with Wayne McGregor on his production FAR was also hugely formative.
Having my own work performed on the Sadler's Wells stage while still at Rambert was an amazing experience, and taking my company to New York to perform in 2015 was quite a thrill. My new production, 8 Minutes, will be my first full evening's work at Sadler's Wells, which will undoubtedly be a defining moment.
What has been the most challenging?
Again, there are many challenges you face along the way and it's hard to pinpoint any one experience. My most recent production, Pattern Recognition, threw up quite a lot of challenges mainly because of the complex technology we were working with. Each challenge is an opportunity to learn about how to do it better the next time though!
What was the inspiration behind 8 Minutes?
8 Minutes takes inspiration from the fascinating and awe-inspiring world of solar physics, exploring our modern understanding of, and timeless relationship to, the sun.
Can you explain the piece in three words?
A journey, bright and energetic!
What's the most rewarding thing about dance in general?
It's a place of endless discovery about yourself, your relationship to others and the world at large. The more effort and attention you give it, the more it gives back.
What's the worst thing?
The injuries that inevitably crop up from the years of strain you put your body under.
Do you have any pre-show rituals, either for yourself or your dancers?
Nothing too shamanistic… Everyone tends to have their own routines of eating, preparing and warming up for a show. I always enjoyed having a bit of quiet time on my own reading or listening to music before I got ready for a performance. I think it helped me focus and concentrate and got me into the right kind of frame of mind.
Who or what inspired you to form the Alexander Whitley Dance Company?
I was lucky to get some really great support from the Royal Opera House and Sadler's Wells at around the same time which gave me the resources and the confidence to set up my own company. I also felt that the only way I could explore some of my interests, like digital technology, was through a company of my own where I could take the time to research and test out more experimental ideas.
What is your advice to an aspiring dance artist?
I'd always encourage lots of practice and hard work of course, but would also encourage dancers to be curious and explore the range and depth of their body's technical and expressive capacities. I think it's the responsibility of any practitioner to discover and expand the edge of their abilities, not being satisfied with safely achieving something but having the courage to keep searching for more.
What's next for you?
I'm making a new production for my company which will be on at the Royal Opera House in the autumn. I'm also starting some research soon with New Movement Collective on a production exploring the use of robotics, which I'm quite excited about. And I'm working with the circus company Gandini Juggling on a new production which will premiere at the London Mime Festival early next year.