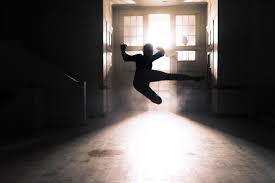 Anne Teresa De Keersmaeker's world-renowned dance company Rosas will return to Sadler's Wells with her iconic piece, Rain. The Sadler's Wells International Associate Company will perform the piece live with contemporary music ensemble Ictus in London on 13–14 June. Rain originally premiered in 2001, and this production is a Sadler's Wells co-production with De Munt / La Monnaie (Brussel/Bruxelles) and Les Théâtres de la Ville de Luxembourg.
Known for her appreciation of mathematical structure and the geometric use of space, Anne Teresa De Keersmaeker pushes these concepts to their limits to form a deceptively simple dance piece in Rain, using layers of repetition and variation. Each of the 10 dancers plays a distinct role in their group, before giving in to the power of the collective. The production is performed to Steve Reich's masterpiece, the minimalist Music for 18 Musicians, which is inspired by breath rhythms.
After studying at the Mudra dance school and the Tisch School of Arts in New York, in 1980 De Keersmaeker created Asch, her first choreographic work. 1982 saw the premiere of Fase, four movements to the music of Steve Reich, one of the most iconic pieces of choreography of the era, which went on to become one of the inaugural works staged at the Tate Modern's Tanks Gallery in London in 2011. In 1983 De Keersmaeker set up her Rosas company at the same time as creating the work Rosas danst Rosas. She established the P.A.R.T.S. dance school in association with De Munt / La Monnaie in 1995.
Throughout her career De Keersmaeker has been engaged in a rigorous exploration and articulation of movement, from its simplest forms to its most complex. The relationship between movement and music is essential to De Keersmaeker's concept of dance. Rosas has expanded the art of dance as an act of writing movements in space and time, and has over the years explored choreography in partnership with other compositional forces, namely music, geometry, the visual arts, and language.