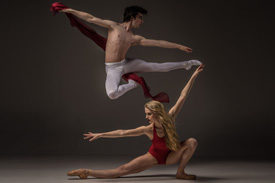 A new bursary scheme has recently been launched that will provide free headshots to 21 students from different drama and vocational schools around the UK. Schools involved in the scheme, which include RADA, LAMDA and Mountview Academy of Theatre Arts, will award the headshot session to a current second-year student – or a final-year student for a one or two-year course – based on the grounds of financial need, performing excellence and high academic achievement.
The Association of Professional Headshot Photographers will send a qualified Association photographer to each of the vocational schools for a headshot session, which usually costs students between £250 and £450. Whilst this is usually viewed as an investment for students, it can be a large and sometimes overwhelming financial commitment initially. Twenty-one Association of Professional Headshot Photographers photographers will each visit a different school for the bursary scheme therefore, in a bid to aid these aspiring students.
Many of the members of the Association of Professional Headshot Photographers began their careers as performers before moving into photography, so the Association is keen to acknowledge and help relieve the pressures upon performers as they begin life in the industry. The headshot sessions will consequently form a reward for the selected students, and will be a way of celebrating their excellence in their studies.
It is hoped the bursary scheme will give a good number of the students involved a healthy head start in 2017, as they take the first steps on the road their careers. The awarding of the headshot bursary scheme will be announced throughout the coming year, according to each school's timetable, and will be published in full on the Association of Professional Headshot Photographers website by September.