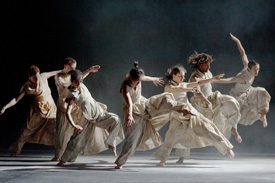 Established in 2014, Sadler's Wells' Elixir Festival is a unique celebration of lifelong creativity, which returns this year from 23–27 June. The festival will celebrate older dancers with this inspirational festival, which features five days of performances, workshops and events throughout the theatre. It was set up to recognise the contribution that older artists make, dissolve assumptions about what older people can and want to do, shine a spotlight on the diversity of dance practice and question what is next for the art form.
Elixir previously provided 2,500 people with the opportunity to experience older people dancing live and saw 500 older performers grace Sadler's Wells' stages. For its return in 2017, the festival presents KnowBody II on the Sadler's Wells stage, featuring work by William Forsythe and Mats Ek, along with new commissions performed by Dominique and Thusnelda Mercy. It also sees the much anticipated return of the group of former professional dancers who performed The Elders Project previously at the inaugural festival.
The Elixir Festival will further raise the profile of the high-quality work made and performed by older artists, and the KnowBody II programme will highlight the valuable contribution that older choreographers and dancers make to the art form. Further Elixir Extracts performances in the Lilian Baylis Studio will also showcase work by older non-professional dancers from across the UK and Europe.
As a result, the festival will go some way in maintaining the art form as relevant in representing all phases of life on the stage. Participating in dance can be hugely beneficial to health and wellbeing at any age, and Elixir will demonstrate the simple, infectious joy of dancing, bringing together internationally renowned older artists to perform new commissions and existing work on the Sadler's Wells stage.