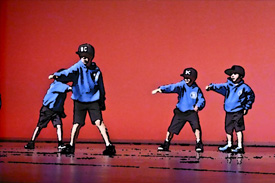 It may not sound so, but it is possible to encourage non-dancing teenage boys to be enthusiastic about the art form. Despite their many inhibitions and reservations, maybe even fear, there is sure to be a route to the dance studio for those young people.
Aiding this journey considerably is the fact that in the past ten to fifteen years dance has become much more mainstream. Dance examples such as Strictly Come Dancing, Billy Elliot, Step Up films, Got to Dance and Britain's Got Talent all mean that the perception of dance has changed dramatically, added to by the explosion of dance on social media. As a result young boys – and in some cases girls – can be more easily inspired, as a new generation who no longer automatically perceive a stigma around dance.
This shift could also be attributed to changing society ideals, in that variety is the spice of life, and stereotypes are constantly challenged. Dance is present in so many places, from theatres and dance floors to schools, church halls, community centres and dance studios all around the country and around the world. As a sector it is important to make dance visible, physical, challenging, creative and above all enjoyable. At present it is not always accessible, so to inspire young people to take part takes much more work. Additionally stigmas are not always held by the young people themselves but by their parents and friends, doing the opposite in celebrating dance.
There is no doubt that inspiring boys and young men in particular to dance can be extremely challenging, despite the regular boys-only classes and youth groups, as well as talks, workshops, performance projects and schools outreach programmes that have sprung up to aid this challenge. Often young people thrive more in a single gender dance group, helping the group to 'work' and so it becomes a positive and safe environment.