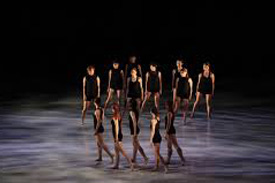 Russell Maliphant Company is set to restage classic and early dance pieces as part of maliphantworks, at the Print Room at the Coronet. It is one of few venues in West London to produce and present dance work; this co-production with Russell Maliphant Company sees the venue's regular spring dance slot being filled for 2017 by one of the world's most acclaimed choreographers.
Opening on 28 February, maliphantworks will include modern dance classic Two; Afterlight (Part One); The Wall Duet from The Rodin Project and Unspoken. It will be restaged and performed by a host of Maliphant's past and present collaborators, reunited from across the world. The works span his hugely celebrated 25 year career, and the staging of these will see Maliphant's Print Room at the Coronet debut with the site-responsive return to some of his early work, inspired by the intimate Victorian theatre in Notting Hill. maliphantworks will feature the return of some of his original dancers, and a community outreach programme will run in conjunction, supported by DanceWest.
Maliphant will perform in Unspoken with James de Maria, 20 years after the pair first danced the duet, and marking de Maria's return to the stage after 16 years. Daniel Proietto will dance Afterlight (Part One), for which he was Olivier Award-nominated in 2010. The international award-winning Dana Fouras will dance Two, which Maliphant choreographed for her in 1997, Olivier Award-nominated Tommy Franzen will bring his eclectic dance style to the duet The Wall, with Dickson Mbi renowned for his strength and incredible popping style.
Print Room at the Coronet and Russell Maliphant Company have partnered with DanceWest to increase audience access and diversity for this and future dance productions, the community dance organisation for West London. It will support new audiences in connecting to dance, by providing access to classes, projects and performances in addition to this world-class and unique evening of performance.