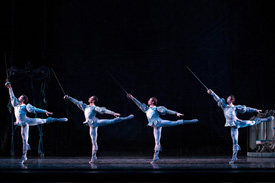 Airbnb has started to let travellers get to know the places they visit, not only by staying in a home away from home in the traditional sense of using the service, but also by experiencing the destination with local people who share their interests. With the launch of its new Experiences section, Airbnb's intriguing new offering is consequently the chance to get a behind the scenes look at favourite dance companies, for example, but is ultimately the chance to experience any interest further.
Airbnb's hometown of San Francisco has seen San Francisco Ballet become one of the first dance companies to sign up to be involved. The Ballet experience is hosted by former San Francisco Ballet soloist Pauli Magierek, who will meet travellers at the War Memorial Opera House and take them straight to the barre for a beginner/intermediate ballet class taught by a San Francisco Ballet faculty member. Travellers can then attend a performance, drink champagne and eat chocolates at intermission, and afterwards go backstage to meet a dancer or two for an insider perspective after the show. A pair of autographed pointe shoes will also be thrown in!
Over in the States, the two-day experience costs $250 per person, but because this is one of Airbnb's Social Impact Experiences, 100 percent of what is paid will go directly to San Francisco Ballet. This will help disadvantaged children and their families attend a performance of the company's Nutcracker at no cost.
For something a little more contemporary, for a $125 fee there is also a three hour Move on Market Street experience at Alonzo King LINES Ballet, hosted by the company's community and teen programme coordinator. Travellers will be able to glimpse a rehearsal or composition exercise with either the company or student dancers at LINES Dance Centre, before a private Pilates class. In the art of giving back, the fee will support the continuation of the contemporary ballet company's work.