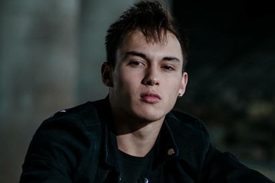 Leslie is originally from Wellington, New Zealand. He graduated from Laine Theatre Arts in 2015 with a National Diploma in Dance.
Credits include: Sleeping Beauty – Aylesbury Waterside Theatre (2013), Snow White & The Seven Dwarves – Richmond Theatre (2014), West End Heroes – Dominion Theatre (2013, 2014, 2015), Thriller! Live – Lyric Theatre (2015-present).
Have always wanted to be on stage?
Yes, I've known since I was a kid that I wanted to be a performer! Never wanted anything else.
Where did you train and what was it like?
I trained at Laine Theatre Arts. The teachers gave me a lot of very valuable knowledge and skills which I use on a daily basis. It was a challenging three years but it was definitely worth it.
What has been your favourite audition since leaving college and why?
Hamilton, because I was able to work closely and in depth with the very people who created and work on this amazing show.
What is your favourite part of your current job?
I get to dance to Michael Jackson's music every day and my cast is one big family, so we have a great time doing it.
What's the best thing about performing and dance?
It just feels so good to dance! I love being able to put a smile on people's faces and do a job that I love to do. And I get to meet a lot of really cool people that are passionate about the same thing as me.
And the worst thing?
It takes me a long time to get out of bed the next morning because my joints don't want to move!
Do you have any pre-show rituals?
Us boys at Thriller usually just put on some music and get ourselves hyped up for the show.
What would be your advice to an aspiring performer?
Dedicate yourself to your craft, work at it every day and keep striving for your goals no matter what.