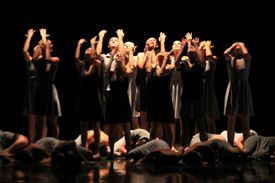 London's Barbican is a venue full of theatre and dance this year. In its most ambitious dance offer to date, the Barbican is a world-class arts organisation which pushes the boundaries of all major art forms. This new season brings genre-defying performances to the city from around the world, with audiences able to watch works from Belgium, Canada, France, Germany, Italy, Japan, The Netherlands, Spain, the UK, USA and Venezuela.
The Barbican's Artistic Associates, such as Boy Blue Entertainment and Cheek by Jowl, have been welcomed back for the season, as well as artists from the London International Mime Festival. As commissioned choreographers, Julie Cunningham and Darren Johnston will be presenting new work following a period of dance research and development, and the ToneelgroepAmsterdam will be resident at the Barbican throughout the year.
The recent world premiere and Barbican co-production of Blak Whyte Gray – by Boy Blue Entertainment – revealed a new side to the company through the new triple bill. In a return to its roots and in a celebration of culture, the company also curated events, music, film and talks at the Barbican to accompany the main show. Another world premiere was the Royal Ballet's Les Enfants Terribles, directed and choreographed by Venezuelan choreographer Javier De Frutos, with Royal Ballet principal dancers Edward Watson and Zenaida Yanowsky.
In a second mixed bill at the Barbican, Ballet Black Artistic Director Cassa Pancho commissions bold choreography, this time from Martin Lawrance, Michael Corder and Annabelle Lopez Ochoa, whose new piece is commissioned by the Barbican. Emerging British choreographer and acclaimed dancer Julie Cunningham brings audiences a rare combination of dance and spoken word, in a double bill as a Barbican co-commission about gender and identity. British choreographer and visual artist Darren Johnston fuses digital imagery produced by motion-sensing technology with meditative choreography in Zero Point. A Barbican co-commission and European premiere, the piece will be performed by a cast of Japanese dancers.
Both works presented by Cunningham and Johnston have been created through the Barbican's Research & Development programme. The choreographers were given time in the venue spaces to formulate ideas and work with dancers, with access to facilities and equipment to develop work both musically and technically.