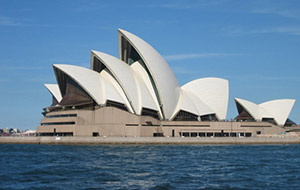 This year's Genée International Ballet Competition, presented by the Royal Academy of Dance, is to be held in Sydney, Australia in December. As the country's summer time, December will see competition candidates from all over the world – but it is thought predominantly from Australia – journey to the city in order to compete for the prize money and exposure offered by the competition. Previous winners and medallists of the competition have gone on to dance with and choreograph for the world's best dance companies, so taking part in the competition is worthwhile indeed.

Recently announced for the competition is that Steven McRae, principal at the Royal Ballet, is an ambassador for the Genée this year. McRae himself competed when the competition was last held in Sydney in 2002, scooping the gold medal as an Australian native. Today he is tearing up the stage in a variety of classical and modern repertoire with the Royal Ballet, even as a tap dancing rabbit in an Alice in Wonderland interpretation. Whilst there has been many notable recipients of the Genée medals, there is a significant number of Australians within this. The Royal Academy of Dance's Genée Alumni scheme works to reconnect with all past candidates and celebrate their various successes.

The competition is made up of 10 days activity, the majority of which is coaching for the candidates, culminating in the Final at the Sydney Opera House. Three days of Semi-finals ahead of this at the Concourse will whittle down the candidates to just 12 young aspiring dancers, focused solely on winning the final. With judges including the artistic directors of Australian Ballet, Royal New Zealand Ballet and the Royal Ballet, the candidates will be put through their paces both technically and artistically. They will dance both a classical variation and a piece of their own, in addition to learning commissioned choreography.