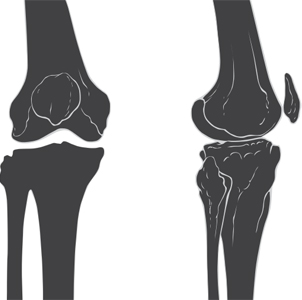 Do your knees hurt when you land from a jump, go downstairs, do grands pliés, or sit with them bent for long periods of time? "Jumper's knee" could be the problem, a strain of the patellar tendon that runs from the lower kneecap to the upper shin. It is common in male ballet dancers and basketball players, who also jump a lot.
Other problems with the patella include pain from subluxation, where it goes out and back in, and dislocation where it goes all the way out and stays out. These conditions are common in adolescent females with hypermobility, especially in ballet dancers who turn out from the knee rather than the hip.
The juvenile version of the Jumper's Knee, occurs at the other end of the patellar tendon, where it attaches to the growth plate, which is called Osgood-Schlatter's Disease. It is a condition often seen in young (mostly male) athletes where they strain the attachment of the patellar tendon at its insertion to the growth plate on the upper tibia. It forms a swollen, tender lump below the knee and is related to running and jumping. It tends to come and go but disappears when growth is over.
In Jumper's Knee, the pain usually comes from a specific point in the attachment of the tendon to the tip of the patella and not from the knee joint itself. Most of the time it is a chronic, ongoing condition that slowly gets worse with time. The diagnosis can be confirmed by injecting local anesthetic into the sore spot: if it relieves the pain, then the diagnosis is confirmed. It occurs from tightness of the quadriceps mechanism and weakness when the muscle lengthens as you plié. The condition is usually due to one part of the tendon that has pulled loose from the patella and has failed to heal, and must be treated.