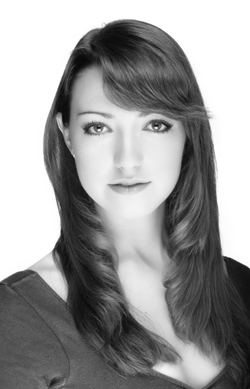 After graduating from London Studio Centre's Intoto Dance Company, Rhiannon toured the UK with various dance groups and appeared in numerous TV and corporate events. She recently finished her first season as resident showgirl and cancan dancer at La Nouvelle Eve in Paris, and has been booked to work with other companies in Paris so will continue to perform there over the winter season.
When did you begin dancing, where and why?
I started dance when I was six at an after school club where we learnt ballet and tap. To be honest, I only went because my best friends at the time went too. We eventually got put forward to do our exam, I loved getting shiny new satin shoes and having my hair done in a bun with a little ribbon. From then on, I was hooked.
How long have you been performing? Did you start young?
I performed in various events with my dance school whilst I was younger, but my first real experience was performing with The National Youth Ballet of Great Britain when I was 16. It was the first time I'd had to go through a real audition experience, and once the season started we had summer intensives at Elmhurst and Tring, which was a whole new world to me. We worked with brilliant choreographers such as Drew McOnie and Jo Meredith, and were lucky enough to dance at theatres such as Sadler's Wells and the Birmingham Hippodrome. It sounds silly, but up until then I hadn't really realised that dance could be a career, not just a hobby. The following year I successfully auditioned to be in One From The Heart's production of Cinderella, and working with professional dancers and performers made me realise that I wanted to do this for a living.
Where did you train and what was a typical day like?
I trained at London Studio Centre where I studied all dance techniques; ballet, contemporary classes such as Limon, Graham and Cunningham, Matt Mattox jazz technique, hip hop, commercial, lyrical jazz, as well acting and singing. We also had lectures four times a week and at the end of my three years of vocational training I graduated with a BA (Hons) in Theatre Dance. A typical day started at 9am and finished around 5pm.
What is a typical day like now?
My day is now much more nocturnal! At La Nouvelle Eve [where I recently worked in Paris] we have two shows a night, six nights a week. We have to be in work to warm up and get ready by 6.30pm as the first show starts at 8pm, and the second is at 10pm. The show normally finishes around midnight, and once you've showered, prepped your costumes for the next day and taken your make up off it's usually around 12.30am. To chill out after the show we'll normally go for a drink somewhere local, or maybe go for a bite to eat. Getting to sleep in the early hours of the morning means that I don't usually wake up until around midday the following day. Usually I meet up with friends, explore somewhere new in Paris, or go to one of our favourite cafes or shops – vintage shopping around Pigalle and Abesses is amazing, and there's hundreds of little cafes or restaurants to check out.
Do you still take classes? How do you keep on top of your technique?
The show at La Nouvelle Eve keeps us very much in shape and it's quite technical, but there are dance studios in Paris where you can go and train during the day as well – my favourite class to do at the moment is Yanis Marshall's at Studio Harmonic, because it's so so different to the style of dance we do in our cabaret show.
What's the best part about performing in Paris?
The lifestyle is absolutely incredible in Paris, and I love that there are so many cabaret shows to discover and enjoy. There are so many things about my job that I love. Meeting and working with different people all the time is great. The fact that it allows me to travel is awesome too, I doubt I would have spent seven months living in Paris otherwise. Seeing progression and growth in kids you've taught over the years is also wonderful but nothing will beat the feeling of being on stage – when you're waiting for the curtain to open, with your make up and costume on, your friends around you, with the lights on you, a packed audience waiting to see you dance. It's an amazing feeling. I loved watching people's reaction to the cancan at La Nouvelle Eve. I think a lot of people don't know what to expect, seeing the shock and amazement on their faces reminds me just how lucky I am to be part of their Paris experience
What advice would you give to someone aspiring to be part of the dance industry?
Work hard and be a nice person. The dance world is so small that everyone knows everyone. If you're the sort of person no one wants to share a dressing room with, after a while people just won't work with you. Working hard goes without saying – you have to keep learning, keep improving, keep up your technique classes and also keep remembering why you decided to do this in the first place. There's nothing more compelling to watch than someone on stage who is clearly enjoying themselves.
What's next for you?
I want to stay in Paris for a while; I've completely fallen in love with cabaret, and with being a showgirl. I've booked a few more jobs out there to keep me busy over winter and I'll be back working at La Nouvelle Eve and with another company next season.