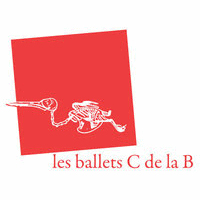 Founded for a dare in 1984, les ballets C de la B is mix of surrealism, slapstick and semiotics within the sphere of dance. It's ethos has consequently made it one of the world's most influential dance theatre companies. Since then it has become a company that enjoys great success at home (Belgium) and abroad. Over the years it has developed into an artistic platform for a variety of choreographers and the company still keeps to its principle of enabling artists from various disciplines and backgrounds to take part in this dynamic creative process.
Les ballets C de la B is not easy to classify however it is possible to pin-point a house style (popular, anarchic, eclectic, committed), and its motto is 'this dance is for the world and the world is for everyone'. As a result, Danceworks in London is presenting a 2-day workshop with the company in September, a great opportunity for aspiring dancers.
This workshop will be taught by dancer Bérengère Bodin who was born in 1980 in Fonteenay-le-comte, France. She studied at the CNDC in Anglers and then joined leading performance companies such as Raimund Hoghe, Joëlle Bouvier, Carolyn Carlson and Euan Burnet Smith, Kubilai Khan Investigation, JoJi Inc Cy, Isabella Soupart and Robyn Orlin, before joining les ballets C de la B.
Bérengère will encourage the dancers participating to feel and even redefine the emotions of life. This will be an opportunity to enter a world of not-knowing and she will work with individuals to examine their meaning and relationship to emotion, and this will be developed throughout the workshop. There will be opportunities to improvise, share and perform and the workshop is for those who wish to move to another deeper level in their dance and emotional expression
Participants must be 18 years of age or over.
Level: Intermediate/Advanced