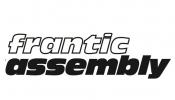 Physical theatre company Frantic Assembly is set to partner with Coventry University in order to deliver a postgraduate qualification in theatre-making, much to the delight of many of its fans and followers. The two organisations have claimed this marks the first time a professional theatre company has been involved in the creation of a master's degree programme in the UK, and is thought to offer participants an enriched and all-round fulfilling education.
The one-year course, named Collaborative Theatre Making MA, will see Frantic Assembly lead intensive, practical performance projects, which will feature alongside supporting seminars, research events and master classes run by the university in a balance between the academic and the practical. The theatre company will lead modules on devising work and engaging with young people and communities, and will also work with students to create a public performance as part of the course.
The course will begin in January 2015 and will offer professional level training for 26 full-time students from all disciplines, including actors, directors, writers, dancers, choreographers, composers and musicians and will be taught in both London and Coventry. Coventry University will run a taster workshop on the new MA course in London in mid July in order to give potential students the opportunity to work with Frantic Assembly and to find out more about the course.
The new MA course will produce a creative environment where emerging artists are encouraged to think beyond their background genre and their own areas of expertise in their theatre-making. It will provide exciting opportunities for the participants to develop their practice and understanding of the theatre industry and it will mean they can develop a 'total theatre' approach to open up the potential of devising theatre with highly skilled and exciting collaborators.