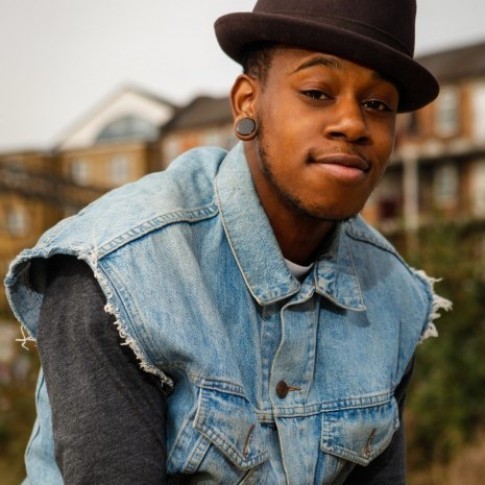 Ivan Blackstock is a well-respected hip hop artist within the dance theatre world, the commercial world, as well as on the hip hop battle circuit. He undertook training at two prestigious dance conservatoires, namely the Urdang Academy and London Contemporary Dance School, during which he took a gap year to join The Pet Shop Boys on their world tour.
Ivan has worked with many well-known names of the dance world, such as Arlene Phillips, Jasmin Vardimon, ZooNation Dance Company, Kylie Monogue and Breakin' Convention, in addition to working as part of the BirdGang Dance Company creative team. Here he shares stories of growing up with dance and his life as part of Blaze…
When did you begin dancing, where and why?
I have always been dancing since I can remember. I have always been a fan of Michael Jackson, MC Hammer & Bobby Brown but I took my first dance class at the age of eight in a dingy hall in south London, after seeing my cousin performing and opening for a well known US boy band at the time.
What were your early years of dancing like?
Very crazy; I remember travelling from my old home in Old Kent Road
to Battersea at 10 or 11 years old twice a week to make rehearsals and training by myself. My Mom would drop me off when she could but she was juggling two jobs and my younger sister.
How long have you been performing? Did you start young?
My first performance was quite soon after I joined my cousin's dance crew but professionally it started at 17 years old, and I was on a world tour with the Pet Shop Boys at 19.
How did you train and what was a typical day like?
I trained with many established street dance companies and teachers in London, from Sisco Gomez to Boy Blue Entertainment. I also studied dance at a few schools… Lewisham College, Urdang Academy and London Contemporary Dance School.
My typical day was getting to ballet for 8:30am, taking various dance technique classes and also contextual studies until about 6pm, then taking a street dance class or rehearsing with my dance company BirdGang from 7-11pm. I would get home and be in bed for about 12:30am and would then repeat.
What is a typical day like now?
My typical day now is prepping for the next choreographic project. Having meetings, writing emails, seeing shows. Very fun I must say.
Do you still take classes? How do you keep on top of your technique?
Yes, I always take class when I can. When you get older you have a lot more responsibilites so it's not so easy to commit to dance classes as you would when you are younger. Wednesday is the day I religiously take time to take class and I also try to train by myself at home: I find it therapeutic.
Do you prefer choreographing to performing?
I love both to be honest, but at this stage in my career I prefer choreographing. I like working with different types of people as I find it really stimulating – each project is very different from the last. Also seeing the birth of my ideas from my head actually come to life with people paying to come and see it and walk out satisfied. That really does it for me.
What's the best part about performing in Blaze?
Working with such a diverse pool of talent. Everyone brings something unique and special to the table. Also, my colleague from BirdGang Kendra Horsburgh is resident choreographer and dance captain and she is doing a great job putting the show together.
What would you say was your greatest achievement to date?
Winning the Guardian & Hospital Club 100 award. Being a winner alongside Steve McQueen, The Rolling Stones, Helen Mirren, I feel very honoured especially as it was a public vote. So I must be doing something right!
Which part of dance do you enjoy most?
This might sound selfish but the feeling when I hear music that touches my soul. It's very self indulgent. I can't really explain it but that's the best part of dancing, I feel.
What advice would you give to someone aspiring to be part of the dance industry?
The road is long, the road is tough, but if you have patience, perseverance, humility, and foundation you will reach your destination.
What's next for you?
Working with my dance company BirdGang on future projects such as Breakin' Convention and a few shows in Europe. Secondly I will be working with Dance Umbrella and the Young Vic in October.