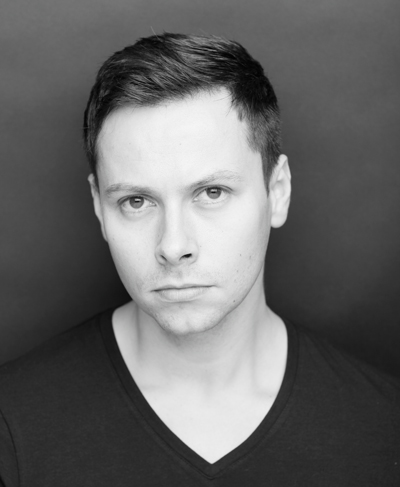 Christopher Marney is a man of many talents. Perhaps most well-known for his recent depiction of Count Lilac in Matthew Bourne's Sleeping Beauty, Marney has worked tirelessly to build his reputation as an esteemed performer, and now sought-after choreographer for professional dance companies.
Leaving aside Marney's creative endeavours, he has previously danced with companies such as George Piper Dances, Gothenburg Ballet, Michael Clark Company and Bern Ballet, and as part of Matthew Bourne's New Adventures danced roles in productions such as Dorian Gray, Cinderella and Swan Lake. Choreographically, Marney has also created for companies including Ballet Central, Regensburg Opera House and Ballet Black.
Here Marney takes a moment out of his busy touring schedule to answer a few questions about his exciting role in the world of performing arts!
What were your early years of dancing and training like?
I started dancing because I was interested in acting and musical theatre, and knew from being taken to lots of theatre that it was also important to have a strong dance technique if I wanted to be in musicals. I always knew I wanted to perform, really from the first time I went to the theatre (it was the Queens Theatre in Hornchurch!) but I didn't know which aspect I was most suited to so I went to Italia Conti at the weekends where I trained in ballet, jazz, singing and acting.
This alongside studying for my LAMDA acting exams and performing with companies like The Chelmsford Ballet Company, I was enabling myself to gain an all-round training, and by the time I reached 16 was able to make a decision about the best route to take. This was ballet, but I still had a strong interest in the 'performance' side of dance in particular being a character and storytelling. The natural choice was to go to Central School of Ballet where then Director Christopher Gable stood for exactly those things. He was and remains to be a huge inspiration for my career path and performing choices.
Have you always been interested in choreography? What/who inspired you to first create?
I always had lots of ideas that I thought would make good theatre and told best through dance, but it wasn't until I moved back from Sweden where I was a dancer at the Gothenburg Ballet, that I began to choreograph. I had been immersed in a company where we were working with some of the best European choreographers, and having experienced a wide range of styles and learning about how choreographers work very differently to each other, I felt ready to put some of my own ideas into practice.
I think I have taken aspects of many people I've worked with as an influence to create. I admire the fluidity and ingenuity of Jiri Kylian, the way Mats Ek has intention behind his every move and, of course, the storytelling of Matthew Bourne.
What would you say was your choreographic triumph, or was there a work that put you on the choreography map?
Hotel Follies was a show that I conceived and really got off the ground in 2009, at the Arts Theatre in the West End. It was not only a way of bringing together a mix of ideas I had been developing with great performers I had met along the way, but also a good showcase for my work. The profile of the show and venue it was performed in meant that it was an opportunity to invite directors and industry professionals. This led to commissions for further work on professional companies and schools.
As for a triumph there are a few ballets I am very proud of because either the collaboration with the dancers worked and they completely understood what it was I was getting at or the combination of choices such as the music, my intention and the casting all seemed to come together. There are formulas I like to work by but sometimes you can't say exactly why it is that you are particularly moved by one piece more than another! Duologue that I created for Ballet Central in 2010 was one of them partly because I was back in the school after ten years of leaving and the inspiration and memories of Christopher Gable were so apparent.
How does choreographing tie in with dancing with New Adventures, or are they completely separate?
They were completely separate until Sleeping Beauty recently, though Matthew has always been very supportive of my career as a choreographer. For Beauty he asked me to be his Associate Choreographer on the piece which linked the two. Because I have a long standing relationship with the company I think he felt confident with me knowing the style and way the shows worked. I provided him with another choreographic eye, created material for the new piece and assisted in teaching and staging the show. In September I will stage one of his first pieces, Spitfire on a company in Scotland which will be a lot of work to mount and teach the piece in about a week! I danced it on tour last year and also performed it on Matthew Bourne's Christmas on Channel 4, so it is still quite fresh in my mind!
What is your favourite role you have danced?
Similar to my inspiration for choreographing, there are many roles I have loved for different reasons. I have to say the Prince in Bourne's Swan Lake is the ultimate role for a dancer who wants to act and tell a story. He goes on a huge journey and reaches a tragic ending, bittersweet though ultimately discovering what he was living his life for. It's a part I first played when I was twenty and have revisited many times since.
Who do you channel when you perform, or is it a different person for each role?
Each role takes a lot of research into existing or fictional characters. You build a library of images, books and DVDs that help to create the character you are playing. Recently I created the role of a Japanese fisherman's WIFE in a new production by Will Tucket in Japan! Obviously that took some looking into! It was called The Crane Maiden and is a very famous tale in Japanese culture. Taking on a role knowing the audience already relate to this character, plus it being a different sex, I knew I had to do a lot of background work.
What do you like most about choreographing?
The thing I love about choreographing is seeing my idea come to life. I love the challenge of telling a story when there are no words and you have to convey it all physically, and working with and getting the most out of the dancers is particularly rewarding. Seeing the process from the initial first rehearsal to the realisation of it onstage can be nerve-wracking but being able to share your work and message is ultimately fulfilling.
What is the best part about dance?
I think the best part is when it touches someone and a person can be moved or made to feel something by what they are witnessing. It is amazing how that cycle continues to inspire generations.
What's next for you?
I continually enjoy working with new people because the reason I love this profession is partly the fact that you can keep moving and meeting people, travelling and seeing new places, building up knowledge of the art form which helps sculpt you as a person.
The next half of the year is really busy with experiences just like that. I have performances of Dorian Gray in Tokyo in July, we tour the USA this autumn with Sleeping Beauty as well as opening our Broadway run, and then in December and January I will be choreographing new pieces for Ballet Black and Ballet Central. I've also recently moved so am looking forward to spending some time over the summer settling in and being with my family.