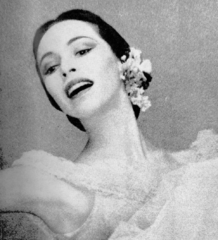 Maria Tallchief, the muse of celebrated choreographer George Balanchine and fantastic ballerina died on April 11th 2013, aged 88. She became one the most brilliant American ballerinas of the 20th century, and was even one of Balanchine's wives, securely marking her place in modern ballet history.
Tallchief was renowned for her work with Balanchine's New York City Ballet, dazzling audiences with her speed, energy and fire. Her stepping stone into fame took place in 1949, in which Tallchief danced the title role in the company's version of Stravinsky's Firebird, which was one of many roles that Balanchine created for her during their time together. Many dance fans from world-over may compare Tallchief to British ballerina Margot Fonteyn, each the epitome of their country's work in the arts.
Tallchief began ballet lessons in Colorado Springs and later took classes in Los Angeles, and from then on a star began its journey into American dance, becoming known worldwide. At 12 years old she began studying with Bronislava Nijinska, a former choreographer for Diaghilev's Ballets Russes, formidable but encouraging. From then on Tallchief began dancing roles cast to her by Nijinska, and Agnes de Mille, who later encouraged Tallchief to adopt her name by which she is known.
By 1944 Tallchief had danced mostly with the Ballet Russe de Monte Carlo, but this marked the year that she danced in a Broadway musical choreographed by Balanchine. Balanchine went on to remain resident choreographer for the company, casting Tallchief in works such as Danses Concertantes, Le Bourgeois Gentilhomme, Ballet Imperial and Le Baiser de la Fee. Balanchine paid close attention to Tallchief, and in return she admired him as a choreographic genius, marrying him in 1946 but then divorcing him in 1950.
Balanchine went on to create his own ballet company, which Tallchief went on to be one of its acclaimed stars in roles in ballets such as Swan Lake, Nutcracker and Orpheus, the first performance taking place in 1948, and her last in 1965.
Image courtesy of Wikimedia Commons.