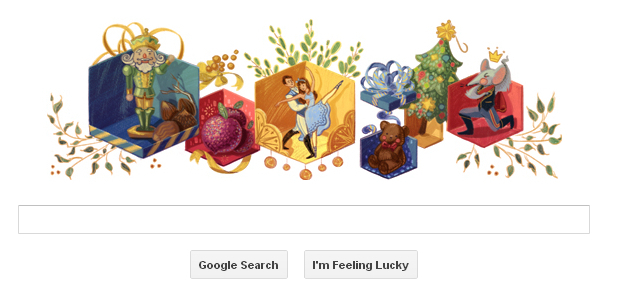 Just before Christmas 2012, the 120th anniversary of one of the epitomes of classical ballet, The Nutcracker, was celebrated by Google, which launched a doodle to commemorate the first performance of the ballet. The doodle worked to depict a few of the scenes of the ballet, particularly apt in the run up to Christmas with dancers everywhere becoming sugarplum fairies in their tights, tutus and tiaras.
The Nutcracker premiered at the Mariinsky theatre in St Petersburg on 18 December 1892 to a score by Pyotr Ilyich-Tchaikovsky, which has become world-famous and is instantly recognisable. Today The Nutcracker is performed all over the world by many different ballet companies, become various versions for film and even screened to cinemas in the UK recently. However, the ballet was poorly received before US-choreographer George Balanchine re-imagined the original choreography by Marius Petipa, transforming it completely.
As a result of this, it is presumed that much of the original choreography of Petipa's production debut is no longer seen by audiences, flocking to theatres worldwide to experience this festive production full of magic and sparkle. Balanchine's version of the ballet saw new elements make their way into the choreography and synopsis for the New York City Ballet in the twentieth-century, gradually spreading around the world.
Alternative versions of this ballet favourite include Nutcracker: The Motion Picture (1986), The Nutcracker Prince (1990), Barbie in the Nutcracker (2001), and The Nutcracker in 3D (2010), in addition to Matthew Bourne's version as Nutcracker! and Mark Morris' The Hard Nut as additional re-imaginings.
Unfortunately Tchaikovsky died aged 53, less than a year after The Nutcracker's release, meaning he was unable to enjoy the ballet's success, yet today there is plenty of opportunity to experience the captivating production.