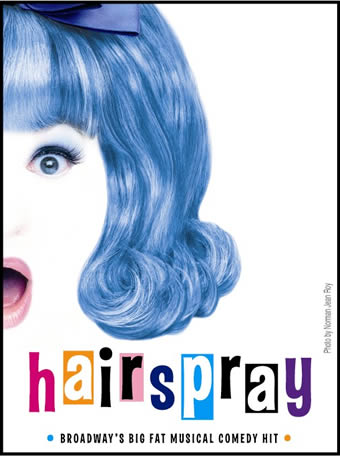 Hairspray the musical, full of big hair and big laughs will be going on tour again in 2013, and the 60s dresses, the cans of hairspray and the loud-and-proud, rather catchy soundtrack, will all be going too.
Mark Benton will be playing the cross-dressing role of Edna Turnblad, with other casting to date including Lucy Benjamin (Lisa Fowler from EastEnders) playing Velma Von Tussle and Freya Sutton (who has recently graduated from Italia Conti Academy of Theatre Arts) playing Tracy Turnblad. The cast will be joined by X Factor finalist Marcus Collins as Seaweed Stubbs, Gemma Sutton as Amber Von Tussle, Lauren Hood as Penny Pingleton, Sandra Marvin as Motormouth Maybelle, Josh Piterman as Corny Collins and Paul Rider as Wilbur Turnblad. Link Larkin, Tracy's squeeze, is yet to be cast but already the show looks like not one to be missed!
Hairspray is based on the 1988 film comedy starring Ricki Lake as Tracy. The musical takes place in 1962 with Baltimore's Tracy Turnblad as a large girl with big hair and an even bigger heart who desperately wants to dance on The Corny Collins Show, sponsored by Ultra Clutch Hairspray. She wins a spot on the show which is a local television programme, and becomes a teenage celebrity overnight. This glory is faced with the indignation of the programme's reigning princess Amber Von Tussle, complete with matching dress, shoes and handbag, whose overbearing mother Velma produces the show. The girl on the show who gets the highest popularity rating will be crowned Miss Teenage Hairspray – and Amber wants the crown that Tracy seems destined to win.
Hairspray will be touring to Salford, Sunderland, Bradford, Milton Keynes, Southampton, Liverpool, Glasgow, Birmingham, Belfast, Cardiff, Nottingham, Dublin, Bristol, Leeds, Edinburgh, Aberdeen and Norwich from 11 February to 29 September 2013.
Image courtesy of Wikipedia.