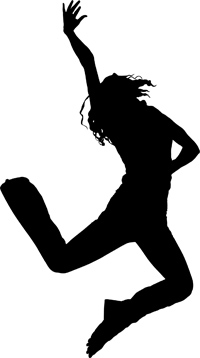 The time of year has begun again, when dance students all over the world are beginning to audition for dance schools, vocational colleges, conservatoires, institutes and universities. Even the most professional performers can feel nervous before important auditions or performances, but there are a few sure-fire ways to make sure that your tutu stops trembling and knees in those show tights stop shaking.
The first thing to ensure you are doing is breathing. This will calm your nerves as you take long and slow breaths, and will mean you are concentrating on something else rather than the task in hand! Make sure that you are standing correctly and have good posture by standing up straight and tall, whilst pulling your stomach muscles in towards your spine. Your weight should be distributed evenly over your feet will your toes relaxed and spread on the floor.
Relax your shoulders, as these begin to tense subconsciously when we feel anxious or nervous. Make sure you are pulling your shoulders blades down and are opening up your chest to project yourself, making sure that your ribs are pulled in to your body. You should feel as though you are pulling up all of your muscles and are neat and well-presented. You will appear more confident by having good poise, and able to carry off that brand new leotard to perfection!
Make sure you are fully warmed up by the time the audition starts as this will ensure you will not have any body-related worries to contend with, meaning you can fully focus on the person taking the audition and what they require from you. Make sure your muscles are warm and supple and keep breathing, as this will maintain the oxygen travelling around your body in your blood, and feed it into your brain too. It is easy to be distracted by other dancers in the room, but it is important to concentrate on yourself and show yourself off to your best ability, rather than worrying about making mistakes.
Good luck!