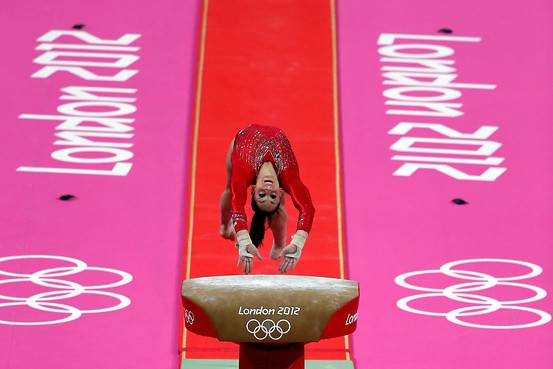 Now the London 2012 Olympic Games are over ahead of the Paralympic Game in a couple of weeks, many have raised the question both online and in print as to whether dance could qualify as an Olympic event. The artistry, strength and flexibility of dance can be seen in many existing events of the Games, the most obvious examples being Gymnastics and Rhythmic Gymnastics.
Dance has had many links with the 2012 Olympics. One of Birmingham Royal Ballet's Principal dancers, Matthew Lawrence, created a routine for the Welsh and five times British champion gymnast Frankie Jones for the Rhythmic Gymnastics British Championships ahead of the Games. Jones was the only British individual rhythmic gymnast to compete at the 2012 Olympics, working hard with Lawrence, as well as BRB's Body Conditioning Instructor Jennifer Mills. Jones received ballet classes as part of her preparation for the competition, complementing her body's ability to create any imaginable shape or movement: a rhythmic gymnast takes elements of ballet, and then stretches it to the extreme. Rhythmic gymnastics is a combination of gymnastics and dance and its origins lie in a wide variety of disciplines, including classical ballet. Here it is clearly demonstrable that both disciplines are closely related yet have evolved in different ways.
The Team GB backstroke expert Liam Tancock revealed that dance has too featured in his training, having taken ballet classes in order to improve his swimming. Tancock maintained that his success in the water was the result of 'thinking outside the box' in order to develop additional qualities of dance to boost body strength and improves strokes. Whilst you would be unlikely to see Tancock donning ballet tights and satin ballet shoes, it is clear to see that dance is not only a complementary discipline to other activities, but its own success in its own right. Why shouldn't we see tutus and leg warmers on ballet's competitive athletes at the 2016 Olympic Games? The ideals 'faster, higher, stronger' are extremely applicable to the art of dance, with Albert Einstein and then Martha Graham maintaining that 'dancers are the athletes of God'.
Many may argue that the absence of dance is due to it being such a subjective discipline, unable to be measured either numerically or objectively. However, both Gymnastics and Diving feature which are art forms in themselves and are judged via a complex scoring system in order to achieve potentially unbiased and accurate results. With both events developing and constantly becoming more challenging, the possibility of achieving the perfect 10 score has been eliminated to account for the increasingly demanding nature of the events, viewed relatively. It seems the art of dance and ballet cannot be measured numerically, but perhaps more in how it affects the viewer, which of course would be impossible to score.
Perhaps if dance were to be included in the Olympic Games, the level of artistry, musicality and expression would have to be reduced in the face of accurately 'marking' the competitors' arabesques, multiple pirouettes and extensions, which would then mean that what is being executed is not aesthetically 'dance' in its entirety. The dance elements of 1972 Gold illusive gymnastic legend Olga Korbut were once appreciated by scoring systems, but are now considered time-consuming in relation to the huge tumbles and requirements of twenty-first century gymnastics. These are now unable to affect the final scores in a significant way, in what some may argue as a graceless exhibition of athleticism at the expense of beauty and performance. However, today's gymnasts somehow continue to capture audiences and expend the illusions of the stage.