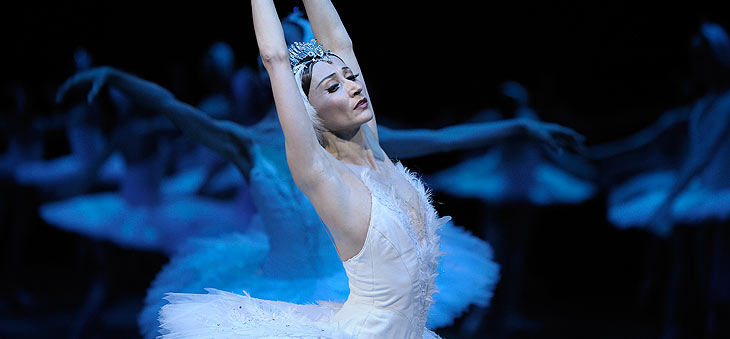 Image courtesy of Laurent Liotardo Photography.
The Prima ballerina of English National Ballet, Daria Klimentova, is performing alongside her pas de deux partner, Vadim Muntagirov and the rest of the Company in Sydney until June 17, epitomising the worldwide success of English National Ballet, and the international recognition they will continue to receive in the arrival of new Artistic Director Tamara Rojo in August. Sydney will see Klimentova and Muntagirov perform a fantastic display including the Black Swan pas de deux from Swan Lake.
As one of the pointe shoe primas in the twenty-first century, Klimentova is a beacon for English National Ballet, hired by then Artistic Director Derek Deane and partnering Muntagirov for recent years. The now stars of the company were thrown together by current Artistic Director Wayne Eagling, and are now being marketed as today's Dame Margot Fonteyn and Rudolf Nureyev, the most famous ballet duet in dance history. Fonteyn and Nureyev also had an age gap of 19 years, yet against the odds, both couples have internationally wowed critics and shone to perfection in their respective tutu and dance tights grandeur.
Kilimentova's life, however, does not stop at performing. Each summer she runs a season of international ballet classes in Prague, her hometown. She is in high demand by the Czech National Ballet, which requested her as its own Director three times, turned down each time by Klimentova due to her continuing desire to dance. With English National Ballet Klimentova and Muntagirov are also in high demand as a duo: after their stint in Sydney they will also be visiting Denmark, performing Swan Lake in London, a gala in Mexico, Swan Lake again in Moscow, culminating with a week in Singapore.
2012 alone demonstrates the sheer power of the grace, unity and strength of the Klimentova-Muntagirov partnership, the tiara on the head twenty-first century ballet and the yardstick from which aspiring ballet dancers must extend their technique and performance.