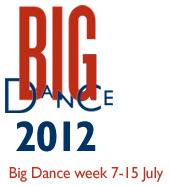 Big Dance 2012 aims to be the UK's biggest celebration of dance, led by the Greater London Authority, Arts Council England and Foundation for Community Dance.
The programme is part of the London 2012 Festival, which is the culmination of the Cultural Olympiad, championing dance throughout the country. Big Dance is delivered by a network of Big Dance Hubs, which are leading dance organisations around the UK, delivering dance to those areas. Whether it is ballet, modern dance, lindy hop, or bharata natyam, Big Dance is sure to provide it, regardless of the extent of your dance ability or dance clothing collection!
In previous years, Big Dance incorporated the Big World Dance, which aimed to encourage people from across London to take part in a mass participation performance that took their dancing shoes from the Southbank Centre to Trafalgar Square for a grand finale which was received by thousands of audience members. Luca Silvestrini of Protein Dance created five pieces of choreography inspired by the five continents which corresponded to an area of London, teaching these to people across the capital. Around 2,500 people registered to take part, with more participants turning up on the day to join workshops at the Southbank Centre, complete with live footage on huge screens.
The Big Dance Schools Pledge, led by Coopers Company and Coborn School, was also a great success. The project encouraged schools to don their dancewear and sign up to complete 20 minutes of extra dance a day to take part in a World Record attempt for the largest dance class in multiple venues. Hakeem Onibudo of Impact Dance created choreography on four different levels to music specially commissioned for the Schools Pledge, of which over 600 schools nationwide with 150,000 students signed up for the pledge. A half hour dance class was completed, culminating with a performance of the Level 1 choreography, emphasising the sheer impact of the power of dance, in bringing people together for one significant cause.