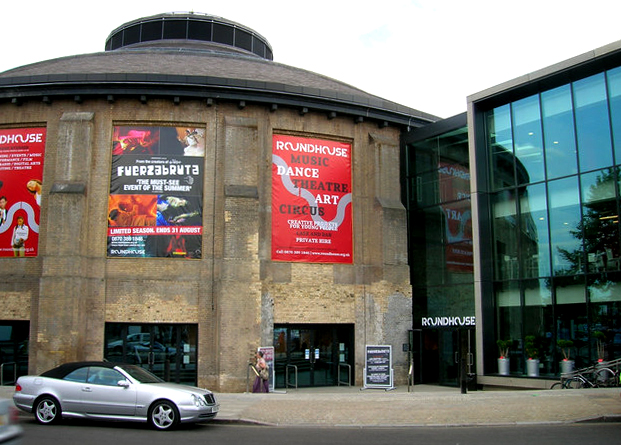 The Roundhouse, Camden, has announced a new multi-arts festival, named 'Roundhouse Summer Session, in some of the best live entertainment for London this summer. Whilst lots is going on inside, outside visitors can enjoy Camden Beach, the Roundhouse's very own seaside resort, all of which is taking place throughout July and August. On the terrace, Camden's biggest outdoor space, there will be 150 tonnes of the finest sand, deck chairs, beach huts, live music and some of the best food pop-ups in the city.
Summer Sessions will present live music, dance, comedy, cabaret, spoken word and live-scored cinema in an intimate, table-seated setting. The eclectic line-up includes the world premiere live scoring of There Will Be Blood, exclusive UK headline performances from Sinéad O'Connor and Chilly Gonzalez, a preview of new work from BalletBoyz, performances from rising star Andreya Triana, Penguin Café, Funk Da Cirque, Boom + Bang Cabaret and The Nest Collective host London's biggest Ceilidh.
Following international success, BalletBoyz present their award-winning show Serpent/ Fallen for the final time in London, together with a chance to see an excerpt from their much anticipated new full length work Young Men, choreographed by Iván Pérez, based on the theme of war and the men that train and fight together. Serpent is choreographed by Liam Scarlett (Royal Ballet Artist in Residence) and Fallen is choreographed by Russell Maliphant. Fallen won the award for Best Modern Choreography at the 2013 National Dance Awards.
Funk Da Cirque returns to the Roundhouse with Soul Trip, a show that combines street dance styles including boogaloo, house, waacking and b-boying – mixed with theatre, acrobatics, human pyramids and body percussion. Following sold out debut shows at Roundhouse CircusFest 2012 and hot on the heels of appearances at the National Theatre's Watch This Space and Camp Bestival, Funk Da Cirque includes some of the best young street dancers and acrobats from across London, aged 11-25.
Boom + Bang Cabaret is a cabaret circus extravaganza featuring the most talented circus performers from around the world including evil clowns, fire breathing panthers, a drag ringmaster, a Russian prima ballerina, death-defying aerial feats and more. The Boom + Bang Circus is the new creative collaboration between producer Bioux Lee Hayes (formerly of Boom Boom Club and La Reve) and the award winning, international burlesque and circus performer Kitty Bang Bang.